Research
How are AU Grads Faring in the Job Market?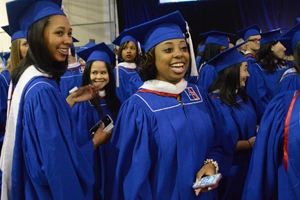 When Michelle Maile, CAS/BA '12, was a senior at American University, she spent her days studying how amphetamines affect memory.
Her research at AU was critical in propelling her into her current job as a Postbaccalaureate Intramural Research Training Award Fellow at the National Institutes of Health.
As a student, the psychology major had the opportunity to design her own study and carry out all the research. The experience so paralleled the real world of scientific research that when Maile accepted the position at NIH after graduation last year, she fit right in.
Maile's experience entering the post-college job world is mirrored by the majority of AU's graduating seniors from 2012, according to the university's Graduation Census.
Eighty-one percent of 2012 graduates shared their status within six months after graduation. Among the findings:

Ninety-three percent of graduates with a bachelor's degree had a positive outcome.
A total of 69 percent of graduates with a bachelor's degree were working, 13 percent were pursuing an advanced degree, 7 percent were working and pursuing an advanced degree, and 4 percent had other intentional plans.
Almost half of those working secured jobs before completing their degrees.
Nine out of 10 of those gainfully employed 2012 grads found employment related to their degree or career objective.
Outcomes were similar of 2012 graduates of a master's degree program who shared their status. 
Eighty-seven percent were working within six months of completing their degree. Almost half of those working secured jobs prior to graduation.

Ninety-six percent of master's program graduates who work hold a position related to their degree or career objective.
These numbers are impressive, especially when you consider the job market is still slowly recovering from the 2008 recession. What they suggest is that despite the economy, there are jobs to be had and many AU grads are receiving offers.
"The market is slowly improving," said Gihan Fernando, executive director of the Career Center. "There are opportunities for students in a wide range of fields. You still have to work hard for the jobs, but it's not like it was at the height of the recession."
AU senior Matt Dorf, SOC/BA '13, is one of the students who worked hard for his job. After working in the AU Athletics Department doing communications and interning last summer for Major League Baseball, Dorf landed a position after graduation with MLB Productions as a broadcast logger.
That means Dorf will get paid to watch baseball — a dream job for a sports enthusiast like him.
Dorf first got a taste of sports production in AU Athletics. The School of Communication student worked on a variety of projects from producing game tape to writing game summaries. That experience helped put him on his current career trajectory, he said.
"In my time at AU working in the Athletics Department, I learned I had a huge passion for sports production," he said.
MORE: 6 Ways to Land Your Dream Job with LinkedIn

At the end of May, just a couple weeks after graduation, Dorf moves to Secaucus, N.J., to begin his new job. The self-described "workaholic" said he's anxious to get going in the real world.
"I'm ready to start working my butt off," Dorf said. "I have goals I want to achieve."
It's likely that Dorf's internship with MLB Productions helped him land his current job. He's in good company. Nine out of ten AU students who interned or studied abroad were employed or enrolled in grad school within six months. Of those who are working or in graduate school, 92 percent had internships and 61 percent studied abroad while at AU, according to the 2012 Graduation Census.
The census figures, which are compiled by the Office of Institutional Research, in conjunction with the career centers and college and schools, are the result of extensive post-graduation surveying and research.

This means AU understands where its graduates have been and are headed. While the Career Center doesn't yet have survey numbers for 2013 graduates, there are some indications that the job market is improving, Fernando said.
At the recent AU Job & Internship Fair sponsored by the Career Center, the number of employers who were participating was up 32 percent over the previous spring's fair. Many of those employers were recruiting for more than one opening.
"It's a reflection of a better market," Fernando said. "The employers have needs. They wouldn't come if they didn't have positions they needed to fill."
Of those recruiters at the job fair, 17 were representing federal agencies. That's good news, Fernando said, especially in the face of the sequester.
MORE: AU Sets New School Record For Internships

The federal government remains one of the largest employers of AU graduates. The list of top 20 employers of AU grads boasts 12 federal agencies, including the Department of State, the F.B.I., and the U.S. Senate, according to the Career Center.  
Maile is one of those recent grads working for a federal agency. At NIH, she has had the opportunity to do research in an established lab and focus on her specific career interests.
Recently, Maile learned she had been accepted into the neuroscience and behavior doctoral program at the University of California, Santa Barbara. She hopes the position will serve as a springboard for a career in academia.
While Maile nabbed the job she wanted, Fernando advises students to consider a couple of career paths in an economy that is still somewhat precarious.
"Don't just focus on one area. Have a backup plan," he said. "But always bring your A game, and highlight your assets and what you bring to the table."