On Campus
Graduate Student Aspires to Use Urban Planning to Champion Sustainability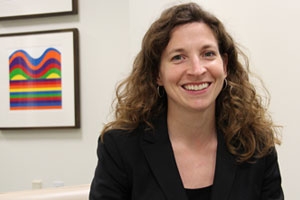 Emily Billheimer, MSSM '14, has had an interest in environmentalism since childhood, but her desire to become the mayor of a small town is a more recent manifestation of that interest.
With her first semester of the Sustainability Management program complete, she is more certain than ever that the master's degree will prepare her to take on a leadership role in the sustainability field.
"Mayors can influence local environmental policy more than anyone else," Billheimer said. "A city itself is an opportunity to create a holistic, sustainable setting, including public transit, bike lanes, pedestrian-friendly streets, and design that inspires people."
Green at Heart
Since graduating from the University of Virginia with an undergraduate degree in architecture, focusing on urban planning and historic preservation, Billheimer has worked in facilities and project management at various architectural firms. Currently, she is a senior architectural interiors professional at Skidmore Owings & Merrill LLP.
Her work is concentrated on adaptive reuse and maximizing floor area ratios in existing spaces. This is the nature of the D.C. architecture market—there isn't much new base building in the downtown urban core.
After 14 years of practicing architecture, Billheimer believes her career is coming full circle—her longstanding interest in environmentalism and urban planning are finally intersecting.
"I enjoy my work, but I've always wanted to pursue a career that will allow me to feel like my work is contributing to the greater good of society," she said. "Doing something that is rewarding is what motivates me."
Billheimer grew up in an environmentally conservative home, where her father reminded her daily to turn off the lights and conserve water. The biggest eye opener to environmental impact came during college when she visited a landfill as part of a class.
"It wasn't a pretty sight and it really stuck with me," Billheimer said. "Since then I think about where things I buy will wind up when I'm done with them."
Billheimer chose Kogod's program because it offers an interdisciplinary approach—business, policy, and science—to studying sustainability management. This allows graduates to make their own unique career path after graduation.
"You make the program what you want it to be, which is what attracted me to it over others with a more narrow approach."
She also felt that she would acquire the real-world skills necessary to make things happen by studying in a business school.
Billheimer is looking forward to the semesters ahead. "I'm excited to develop my career through these three different focuses and figure out what I gravitate toward," she said.
She plans to work at the Mayor's Institute on City Design, an arm of the American Architectural Foundation, to gain a better understanding of how cities will evolve in the future.