Achievements
Boren Fellow Studies Brazil's Economic Boom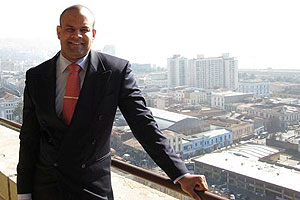 It's no secret that Brazil's economy is booming. The country's GDP grew over 7 percent last year, and nations like the United States annually invest billions of dollars in one of Latin America's biggest economies.
Hoping to learn more about Brazil's economic rise and its newfound relationships with international investors, Averell Sutton, JD/MBA '13, received a Boren Fellowship to study in São Paulo this summer. 
The prestigious award provides up to $30,000 to U.S. graduate students who add a less commonly taught language component to their area of study. The fellowships are funded by the National Security Education Program.

Sutton spends his days interning at a law firm, studying transactions to see how business is being conducted in Brazil and which countries and investors do business in the growing nation.
"I read the newspapers and watch the local news to get a better idea of who is investing in Brazil and who Brazil is doing business with," Sutton explained. "And I get to look over business transactions and see what is working and what can be improved."
Focus on Latin America

His interest in Latin America began with high school Spanish class. Then, after his graduation from Duke University, Sutton spent a year teaching in the Dominican Republic.
Later, as part of his Masters of Public Health studies, he received a Fogarty International Global Health Fellowship to spend four months in Peru.
In the summer of 2010, he participated in the Washington College of Law's Chile study abroad program and interned with Estudio Cardenas, a law firm in Buenos Aires. There, he worked with the firm's natural resources and mining division on corporate investment contracts.
Brazil, however, is new territory.
"Brazil has a strong, booming economy and provides me the opportunity to study a new language that, if Brazil keeps doing well for itself, will only make Portuguese that much more relevant," Sutton said. "Fortunately, Portuguese is close enough to Spanish that I have been able to acclimate quickly."
Each morning in São Paulo, he spends two hours in private Portuguese lessons, followed by work at the law firm until 8 p.m.
"[People from São Paulo] work hard and long hours," Sutton said. "However, they also know how to have fun. The nightlife is incredible, with things to do all over the city every night of the week. I do my best to balance my work, study Portuguese, and take in the Brazilian culture."