On Campus
AU Creates New First-Year Living-Learning Programs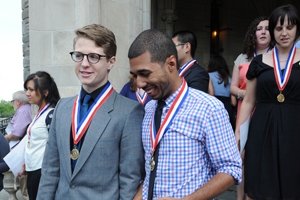 Friday, April 25, prospective members of AU's class of 2018 will descend on campus for Freshman Day, the university's premier event for admitted new students and their families.
When AU welcomes the entire freshman class to campus for fall 2014, a large number of them will likely participate in one of AU's signature living-learning programs—programs in which students live and learn together in communities based on a common interest or area of study. 
More than 5,000 first-year undergraduate applicants for this fall—approximately one-third of AU's applicant pool—indicated interest in the new AU Honors Program, the Frederick Douglass Distinguished Scholars Program (FDDS), or the Three-Year Scholars (bachelor's degree in three years) programs. Numerous prospective AU students applied to several programs at once, writing and submitting anywhere from eight to 14 essays in the process.
The university has responded by creating two new living-learning programs for first year students: AU Scholars and Community-Based Research Scholars (CRBS). With the addition of these new programs, close to 70 percent of AU's class of 2018 will have the opportunity to participate in a living-learning program.
The New Programs
The AU Scholars and CBRS programs are one-year, living-learning experiences for first-year students offered for the first time this fall. The university anticipates enrolling 300 AU Scholars and 60 CBRS.
AU Scholars is for high-achieving students who demonstrate an interest in research, internships, and other academic challenges. Scholars will be placed in fall semester Honors general education seminars; work collaboratively with faculty and other scholars to investigate historical, societal, or controversial issues focusing on a thematic area; and will pursue a spring research or creative project that is an extension of their fall theme.
The Community-Based Research Scholars program offers early engagement with community partners—such as nonprofit organizations working to improve social or environmental conditions in the D.C. area—culminating in a significant research project in the spring semester with a single community partner. The program has an interdisciplinary, collaborative focus with foundational research skills acquired by the end of the first year.
Students are selected for either program based on their application, experience, and essays. Both programs offer also offer additional for-credit components. With high academic achievement in their early years, these students may pursue Honors in the Major. If successful, Honors in the Major will be noted on their transcripts upon graduation.
Why More Interest Now?
Living-learning programs aren't exactly new—at AU or anywhere else. For decades, universities across the country have been offering opportunities for like-minded students to live and learn together, whether it be a residence hall in which all students speak the same non-English language or a house that takes sustainable living practices to a higher level.
So why the increased interest now and why at AU?
While it's not likely because AU applicants have developed a sudden love of writing essays, AU's assistant vice provost for undergraduate admissions Greg Grauman says that the trend is likely the combination of several factors.
"A lot of the interest in our programs, particularly FDDS, Honors, and our three-year degree programs, is because they provide students with unique educational opportunities not found at most institutions."
But Grauman also says AU's reputation as a leader in experiential education—the university consistently ranks among the top schools in the nation for the number of students who participate in internships and study abroad—likely has something to do with it.  
"Students are attracted to the benefits inherent in attending a university located in Washington, D.C., and subsequently seek out programs that will help make the connections between classroom work and real world experiences in the city," Grauman said.
Benefits Embedded into the AU Experience

Perhaps the most significant advantage of participating in a living-learning program is the nearly-instant social support system it provides. This is especially critical for new students who are living away from home for the first time in their lives.
"Initially, the advantage of participating in these programs is that you are connected with students who share similar academic interests," Grauman said. "You have an immediate commonality, which helps build initial relationships on your residence hall floor, as well as easy-to-access study partners."
Fortunately, AU's size and strengths mean that all students—regardless of whether they participate in a living-learning program—have access to the social and experiential benefits offered.
"AU is uniquely placed as a medium-sized school, providing the benefits of a small liberal arts school—such as close attention and faculty relationships—while also having the advantages of a larger research institution," Grauman said. "This, coupled with our long history of excelling in internships and study abroad ensures students that the opportunities they gain from a living-learning experience are actually embedded into all four years of their AU education."