Achievements
KSB Senior Named AU's First Fulbright to South Africa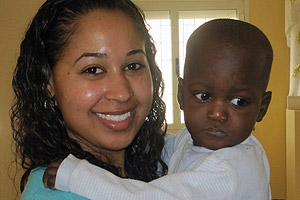 Unlike many college seniors across the country, Dana Huff (BSBA '10) knows exactly where she'll be at this time next year: finishing her research in South Africa.
Huff is a newly awarded Fulbright scholar, and becomes part of the esteemed program that funds grants for international research, peacekeeping, and educational exchange.
She first went to an information session on the Fulbright program last spring, an experience she describes as "completely outside of my comfort zone." Huff, who's also earning a minor in anthropology through the College of Arts & Sciences, had never applied for grant before.
And while she'd enjoyed several alternative break trips to faroff places – including Zambia – the Virginia-raised student hadn't studied abroad and was unsure of her chances at winning the prestigious scholarship.
A trip to South Africa in July 2009 solidified her decision to apply. "South Africa immediately felt special," Huff explained, describing how she read whole books on the country before visiting on an alternative break. "I left with so many questions… I could not fight the urge to apply."
Preparing the Application

She enlisted the help of Paula Warrick, Director of the Office of Merit Awards, and Kogod Professor Jennifer Oetzel in her application process. Oetzel read drafts of her essay and provided insight on the process, as she'd previously helped another Fulbright scholar.
"It's really important to have people in your corner who know the process," Huff said.
"She's an outstanding student, both in academic terms and in personal terms," said Jen Oetzel. "Getting to know her is rewarding on a personal level; she is a good person who can change the world."
Huff also emailed about 300 people in South Africa, looking for educators and community members willing to aid her research. Many "host countries" require an affiliation with one of its universities, government agencies, or nonprofits; even if it's not required, a letter of affiliation strengthens candidates' applications.
Huff will be studying social entrepreneurship as a tool for womens' empowerment and poverty alleviation, especially within the colored community. In South Africa, "colored," or biracial, people have historically been viewed as a separate ethnic group, especially during the apartheid era. As Huff explains, "they're in the middle and often forgotten."
"I'm really passionate about this, and I think that's the key for a grant like this – you have to love it, because of all the setbacks you face."