Achievements
AU Students Receive Udall Scholarship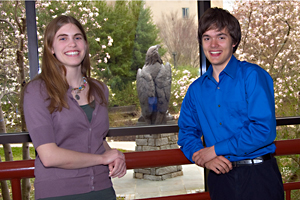 Jennifer Jones, CAS/BA '12, and Stephen Bronskill, CAS-SPA/BA '13, are well-known on campus as leaders in environmental activism and engagement. Now, as American University's (AU) newest Udall Scholars, they are recognized as emerging leaders on a national scale.

American is consistently at the forefront of fostering the next generation of environmental change makers. With ten AU students earning this prestigious award in the last five years, the university is tied for second in the country.

The Udall Scholarship, intended for sophomores and juniors committed to careers related to the environment, tribal public policy, or Native American health care, provides $5,000 toward each scholar's education and a week of leadership training. Jones and Bronskill are two of 80 Udall Scholars selected from a national pool of 510 candidates from 231 colleges and universities.

The Udall Foundation has also awarded 2010 Udall Scholar Alex Thorp, CAS/BS and SIS/BA '12, with an Honorable Mention and small cash prize for his continued leadership in environmental sustainability.

Both Jones and Bronskill have worked hard to engage students and the larger campus community in environmental activism.

In 2010, Jones served as the president of AU's environmental club, Eco-Sense. Under her leadership, Eco-Sense received the Campus Unity Award. Upon graduation, she hopes to research fundamental biological questions related to habitat restoration and conservation biology.

"The Udall Scholarship is a perfect fit for me, since it combines my three main interests: environmental issues, policy, and leadership," says Jones.

As a freshman, Bronskill founded the AU Community Service Coalition to unite disparate campus clubs and organizations under a mutual goal of social and environmental activism. Through the use of listservs, social networking, and weekly meetings, Bronskill has brought nearly 40 groups together to volunteer at trash clean-ups and tree plantings around Washington, D.C. He has been thrilled to see AU's Greek organizations, GLBT groups, and campus Democrats and Republicans all working together toward common goals.

"The Udall Foundation is all about reaching consensus and bringing people together for positive change," says Bronskill.

Being named a Udall Scholar, says Bronskill, "is like being given keys to a car. It gives me the opportunity to get somewhere in my career that I could not have gone before."

"Or maybe the keys to unlock a bike would be a better analogy in this case," he laughs.

Both students are looking forward to spending a week in Arizona this August for leadership training with the other 2011 Udall Scholars.
 
"It will be exciting to meet a group of committed environmental leaders, learn from their example, and just get to know them," says Jones.