Achievements
AU Senior Honored for Student Service and Leadership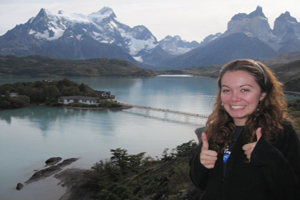 More than 10,000 undergraduates applied for the first Pearson Prize for Higher Education, an award recognizing community service and leadership. Only 20 received the Pearson Foundation's top prize of $10,000. Leah Simoncelli, SOC/CAS/BA '11, was one of those 20. 

Simoncelli applied for the competitive prize while studying abroad in Chile, where she assisted communities affected by two natural disasters that struck on February 27, 2010.

"I had wanted to go to South America for years and years," says Simoncelli. "Finally, in my junior year, it was my turn."

However, 10 days into her program in Santiago, Chile, her dream semester suddenly turned tragic as a magnitude 8.8 earthquake struck. It was one of the strongest earthquakes in recorded history, and caused a tsunami that swept over coastal towns throughout the country within 30 minutes. At least 45,000 families lost their homes, and the nation's infrastructure was paralyzed.

Along with other students in AU's Santiago program, Simoncelli sprang into action. She traveled south by bus to the epicenter of the disasters to partner with the local chapter of international aid organization Un Techo para Mi País (UTPMP: A Roof for My Country). There, she helped to build temporary housing for affected families, and was particularly moved by the young children who were too afraid to walk near the ocean after surviving the waves that destroyed their towns.

Following her time abroad, Simoncelli continues to lend a hand to her former host country, while simultaneously serving communities on and off AU's campus. As the AU representative for Alpha Phi Omega, a national, co-ed service fraternity with active chapters on more than 350 college campuses, she helped to organize this year's annual Do Your Service Day on November 13. Participating AU students surpassed their goal and collectively dedicated 1,195 hours of service to a variety of local nonprofit and community organizations in just one day. The projects included cleaning up Turtle Park, working with at-risk children through City Gate, and assisting the Cystic Fibrosis Foundation with a fundraising gala.

Closest to Simoncelli's heart, however, are the efforts she spearheaded to help the Chilean earthquake victims. She raised $700, as well as the campus community's knowledge of the ongoing struggle there to rebuild.
"I probably can't get back to Chile to help anytime soon, but I can raise money and awareness to help the people who lost their homes and sources of livelihood," says Simoncelli.

Alpha Phi Omega faculty advisor Professor Paul Albergo, SOC, provided significant support for both Simoncelli's Pearson Prize application and her ongoing service work.

"Leah is affable, organized, dedicated, and an all around great student," he says.

Simoncelli is also a Presidential Scholar in University Honors, has served as coordinator for the AU Eagle Endowment for Public and Community Service, and completed internships with the Montgomery County Community Foundation and Community Foundation of Westmoreland County, PA.

Working closely with the Career Center's Office of Merit Awards, Simoncelli recently completed a Fulbright Grant application. If selected, she will serve as an English teaching assistant in Argentina, and hopes to continue her public service work with homeless populations there. She is also looking into working further with UTPMP's Argentina branch.

For now, Simoncelli is ecstatic to have been chosen among so many applicants for the Pearson Prize. The rigorous application process included submitting an essay, letters of recommendation, a college transcript, and later, a personal video. Simoncelli filmed the video above at her host-mother's dining room table in Santiago.

The Pearson Prize provides assistance to students who may have been bypassed by the traditional scholarship system, whose off-campus achievements outshine their academic performance, or who may have discovered their direction or engaged their real passion after their freshman year.

Students inspired by Simoncelli's story may apply for the 2011 Pearson Prize starting January 15, 2011.