On Campus
Your Feedback Makes the Library a Better Place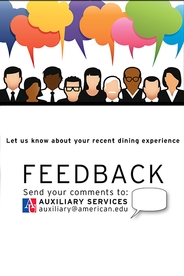 We would like to thank the grad students for their complimentary feedback in the 2013 Campus Climate Survey! Each year, the Office of Institutional Research and Assessment collects data on student usage and opinions of campus services. The most recent survey found over 90% of responding graduate students use the Library both in person and online. More excitingly, more than 89% of these graduate students ranked the quality of our research assistance as good to excellent, and more than 95% of rated our customer service as good to excellent. 
We know how busy AU students are, and we are tremendously grateful for the time that so many students take to provide feedback and suggestions. Last year, we held focus groups for undergraduate students to provide feedback on the Library. Last spring we also asked students of all levels to draw their designs for a renovated library—we got some amazing ideas! Over the summer, we worked with consultants from Brightspot, a library space design firm, to consider how we might change Library space and services. Earlier this fall, Brightspot returned for a town hall discussion with AU students to talk about how the library can better meet student needs.
Student feedback is a critical part of designing our Library of the future—we could not do it without you! For students who are eager to share more ideas with us, we are holding focus groups for graduate students throughout the semester on Thursdays from noon to 1pm. All participants will receive a $10 Amazon gift card. Please email showell@american.edu to RSVP. 
We pay close attention to your comments on Facebook and Twitter, as well as your submissions to our Suggestion Box. There are many ways to let the AU Library know what is on your mind—we look forward to hearing from you!