International
Diving into Design Thinking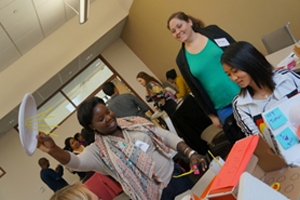 Design is not just what it looks like and feels like. Design is how it works.
- Steve Jobs
"Design thinking" is a human-centered approach to problem solving that focuses on what people want and need. The process uses these insights to discover solutions that are more useful and engaging for the end user. How can these methods be used to create social change? This question was explored at a Discover Design Thinking Workshop hosted by the Social Enterprise program at SIS.
The workshop was designed to be a dive into the process and best practices of design thinking. Participants were led through an interactive and hands-on experience, instead of theoretically learning about the methodology. Second-year Social Enterprise graduate students Nick Boedicker, John Kavyavu, Amanda Lotz, and Pomai Verzon led the workshop and shared the knowledge they gained through the course "Social Enterprise: Contexts and Best Practices."
The experiential three-hour workshop introduced participants to the basic principles of design thinking, drawing from the Stanford d.school, IDEO, and complementary methods for the social innovator. Through learning-by-doing, the participants gained tools to enhance creativity and learned tips to implement them in their work.
The event was formatted to not only be a way for people to learn and apply a new problem-solving technique, but to also be an opportunity for networking. The process of co-creation is a useful way to develop new networks, find partners, and make friends.
The Social Enterprise program is designed to assist students in acquiring the knowledge, skills, and mindset necessary to launch a new social entrepreneurial venture or play a key leadership role in an existing one. It is oriented at developing practitioners, focusing more on the doing of social enterprise than its study as a subject of inquiry. This program's curriculum blends learning about both hard and soft management practices with an examination of the dynamics of social innovation. It gives special attention to enterprises dealing with issues that are global in scope.