Internships
Student Interns Make Multimedia Magazine at NPR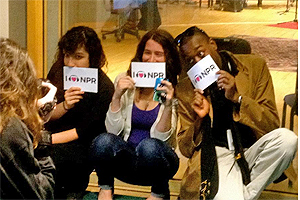 This spring, four American University seniors were among 56 students and recent graduates working alongside National Public Radio journalists and staff as interns. The students worked in departments across the award-winning multimedia news organization that reaches 27 million listeners each week, and nearly 23 million people monthly on digital platforms. 
In addition to their regular assigned duties, the interns produced Intern Edition, a 30-minute multimedia newsmagazine.  
"Intern Edition: Life in Turn" showcases the diversity of NPR interns' talents and passions and explores the greater themes of life—morality, identity, the power of one—through the lens of everyday events. The stories combine audio, videography, and animation to explore societal issues and challenge the audience to view life from different perspectives. The latest edition premiered on May 2 and is now available at www.npr.org/internedition/spring12. 
The website features interviews with NPR personalities from the Weekend Edition intern, a music podcast from NPR Music interns, first chapter book reviews from the Arts & Life intern and more.  
Ariana Stone, a print journalism major, led the entire Intern Edition production, as Executive Producer. In this position, she has built an entire production team, edited radio and online stories and supervised all communication and multimedia efforts. 
"For this installment of Intern Edition, we wanted to profile people and places that put their own spin on the hand that life has dealt them," Stone said. "Through creativity, ingenuity, and maybe just a little bit of luck, the subjects of our pieces write their own happy endings to their stories. 
Communications studies and criminal justice major Elijah Mercer contributed to Intern Edition from all angles as a blogger and member of the communications team. He has also been a leader in the creation of "Week In Review," a Tumblr devoted to highlighting NPR interns' contributions to the organization.  
"AU has given me the confidence to put my ideas into actions," Mercer said. Mercer was a human resources intern at NPR.  
Graphic design majors Jennifer Ehlers and Melanie Taube played fundamental roles in the development of the Intern Edition website and blog, Life in Turn. Ehlers works within User Experience sand contributes to the NPR Website and mobile applications; Taube works with the Editorial Design team, designing graphics for the website, such as the Oscars Best Picture Nominees feature.  
Mercer sees the experience as emblematic of the unique opportunities studying in the nation's capital offers. "Working with other AU students and knowing that we together are helping build a piece of NPR shows the strength of our academic and social learning community in DC."