Internships
Student Diary: NYC Site Visit Trip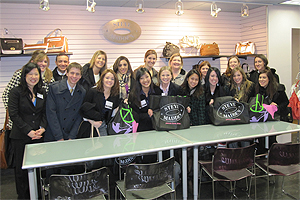 For the ninth consecutive year, high-profile marketing and media companies opened their doors to AU students eager to intern and work in New York City.
Sponsored by the Career Center, Kogod School of Business, and the School of Communication, the January NYC Site Visit Trip grants students behind-the-scenes access to leading organizations; this year's hosts included The Associated Press, CBS News, Consulate Film, Discovery Communications, Estée Lauder, Google, Ketchum, and more than a dozen others.
Participant Taylor Saia, BSBA '13, chronicled his experiences in the journal below.
Tuesday, Jan. 4 - Kick-off at Caroline's on Broadway

New York City is unlike any other. With swarms of people muddled on the sidewalks, marching through oncoming traffic, and unapologetically racing you to the subway, New York is fast to say the least.
Upon arrival, I made my way to Midtown to check into this trendy international hostel (1291 Bed and Breakfast). I dropped off my suitcase, which consisted of one suit and two ties, walked a few blocks down Broadway and met the rest of the students and staff on the NYC Site Visit Trip at Caroline's on Broadway, a historic comedy club in Times Square.
All 84 participants kicked off the trip with a career seminar by Maggie Mistal, our keynote speaker for the evening and "one of the nation's best known career coaches," according to CNN. She spoke largely about a subject that would make anyone uncomfortable at first: asking for what you want. The hard part is knowing what you want. Maggie called it the "soul search before the job search."
What's great about the trip is that it provides a platform to do just that: explore unexplored professional areas, re-evaluate career directions, and make solid connections with powerful leaders of industries, who are very willing to help. 
For me, I know I want to get involved with the creative and personal side of business: marketing, advertising, and public relations. Now I need to run with some of Maggie's advice and create opportunities for myself—ask for informational interviews, set up coffee dates with people in those fields that interest me, and continue to foster relationships with the connections that I made on the trip. Don't be afraid to sell yourself…and laugh at yourself a lot. Of course, that was no problem after watching seven hilarious stand-up comics at Caroline's. I'll never picture a bikini wax the same again.
Wednesday, Jan. 5 - Google, SiriusXM, and the UN

I successfully navigated the subway system downtown and arrived at Google on 9th Avenue, my first site visit. The entire suite was decked out in winter wonderland garb with cotton snowmen and candy canes in the lobby and the largest cell phone I've ever seen. We got a grand tour of the building, and in typical Google fashion, there were massage rooms, game rooms, and fully-stocked kitchens all over the place. Googlers glided through the halls from one gorgeous glass conference room to another on scooters.
We heard from a panel of four Google sales representatives and one recruiter and learned their greatest challenge was keeping up to speed in an ever-changing technology environment. Their suggestion to us, as students potentially seeking employment there, was to "be Google-y" – real, passionate people with quirks.
I grabbed a bite for lunch at a local deli and headed to SiriusXM for my next site visit. Our group gathered in the posh lobby, and we could barely contain our smiles as Russell Simmons, Roseanne Barr and their entourages passed us. We enjoyed a tour of the radio studios (unfortunately not Howard Stern's) and were told about their internship program. Two AU alumni gave inspiring talks on how they got into radio programming and public relations.
I made it to the United Nations Headquarters for a speech on working as a diplomat (definitely not the career path for me!). Directly after, a networking reception with 80 alumni and corporate partners was held at Tribeca Grill. Oddly enough, I met a bunch of realtors – but I also reconnected with one of the representatives at Google. Afterward, I headed back to my hostel, where my Australian and Dutch roommates made fun of me for looking like a banker in my suit. Worn out by a long day but energized by the possibilities, I could totally picture myself running around the city to meet clients someday.
Thursday, Jan. 6 - CNN, Ogilvy, and Estee Lauder

I started the day in the beautiful Time Warner Center to visit CNN and found myself surrounded by film and journalism students. Executive Producer Geraldine Moriba and another producer of the "In America" television segment spoke largely about the importance of working your way up and being multifaceted in your skill sets. Geraldine said (rather candidly) that if anybody solely wanted to report without producing, editing, or shooting, he or she would find themselves at the back of the line. She stressed the ability to be a resourceful and well-rounded team player.
I did a little sightseeing on 42nd Street and Broadway before making my way over to Ogilvy & Mather. It was really a beautiful facility with a collaborative, modern feel, markedly missing cubicles. We heard about employment opportunities, including the one-year, entry-level Associates Program, which trains its employees in an array of fields while they decide which arm of the company they'd like to work in. Personally, I just love the work that Ogilvy does and was really impressed by the fine level of detail behind many of its famous campaigns.
My last site visit was to Estee Lauder in Midtown, and not surprisingly it was in another gorgeous facility with fancy goody bags of products for each of us. I think the mascara can go to my sister, though.
We heard from a panel of five executives from Estee Lauder, Bloomingdales, Vogue, and L'Oreal about their unexpected route to the positions they're in today. Though beauty and cosmetics is not a great interest of mine, hearing their narratives and their perspectives of these famous companies was alluring.
After several jam-packed days, I made my way back to my hostel and grabbed a cup of coffee with my roommates, the next day trekking through the snow to my bus back to Philadelphia. The NYC Site Visit Trip was not only deeply stimulating, but also gave me a kick in the butt to throw myself into everything that I love. It provided me with a growing sense of determination to seek out opportunities for myself and to be my own visionary risk-taker. I met some cool people, made some fabulous friends, and l loved every minute of it.