International
Taking Advantage of the SIS Backyard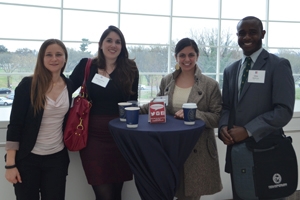 Washington, D.C. is the hub for the nation's foreign policy. AU's School of International Service (SIS) is an arm's length away from some of the most influential embassies, world leaders, and agencies in the world.
SIS graduate students and alumni now have access to the powerful "SIS backyard" via a new student-alumni engagement event series that takes participants behind the scenes at some of the top international relations organizations. Stephanie Block, SIS associate director of alumni relations, collaborated with the AU Career Center, the AU Alumni Association, the SIS Alumni Chapter, and the SIS Graduate Student Council to develop SIS Industry Days, an event series that occurs four to six times a year.
Essentially a series of adult field trips, SIS Industry Days gives students and alumni inside access to organizations that conduct foreign policy. The site visits include meetings with AU alumni that work for the employer, panel discussions, behind-the-scene tours, and networking over food and beverages with other alumni, students, and employees.
"Our SIS Industry Days events symbolize our commitment to an interdisciplinary approach to the study of international relations," says SIS Dean Jim Goldgeier. "It provides access to our local, outstanding institutions, maximizing opportunities for students and alumni."
The series launched at the State Department in spring 2013, followed by visits to the World Bank, the National Counter Terrorism Center (NCTC), and the United States Institute of Peace (USIP). Each organization allows for a different size group and offers a unique itinerary of activities.
The State Department provided an intimate group with small discussions throughout the day, a tour, and concluded with a seated lunch, while the World Bank event featured four AU SIS alumni panelists, a question and answer session, and a networking reception.
The NCTC event was a half-day of mini-presentations by NCTC AU alumni employees—some of the nation's top terrorism analysts—along with a surprise visit from the Center's director, Matthew Olsen. The highlight was a behind-the-scenes tour of the Operations Center.
Most recently, the series wrapped up for the school year at USIP lead by SIS alumna, and acting USIP president, Kristin Lord, SIS/BA '91.
"Integrating work into the educational experience magnifies the impact of both," says Brian Rowe, AU Career Center Director of Experiential Learning. "Giving students the opportunity to put theory into practice enables them to contextualize what they have learned academically."
Block is now exploring possible events at the Pentagon, the Department of Homeland Security, the Woodrow Wilson Center, US Agency for International Development, and maybe even trips to New York City and Boston and elsewhere for the 2014-15 school year.
Be sure to bookmark the AU Alumni Events Calendar, which lists upcoming events.
If you are an alumnus/a interested in hosting an SIS Industry Days event at your employer, please e-mail sisalum@american.edu.