Greetings from Chip Griffin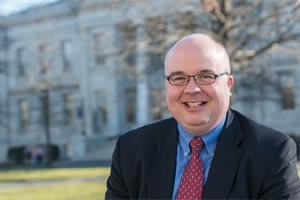 Last month, All-American Weekend 2014 brought together several generations of Eagles along with current students and their parents. It presented a great opportunity for all of us to catch up with old friends and make new ones. We could not have asked for better weather, and the activities and entertainment made for an enjoyable time.
For the second year in a row, the Multicultural Alumni Reunion provided energy and cultural contributions that added to the overall experience. I want to personally thank all of the volunteers and staff who spent so much time putting together all of the events of the weekend to make it a special return to campus for alumni, family, and friends.
Now, it's time to look ahead to the basketball season. With the men's team coming off of a Patriot League Championship (and visit to the NCAA Tournament), this should be an exciting season. If you live in the D.C. area, I would encourage you to come out for the men's and women's games in Bender -- and if you live outside the Beltway, see if the Eagles will be coming to play at an arena near you this season. The teams love to have alumni in the stands at away games!
Finally, I'd like to wish all of you a Happy Thanksgiving. At a time when we all gather to give thanks to friends and family, it's good to remember that in addition to our immediate relatives, we all belong to a family of 120,000 AU Eagles around the world.
- Chip