Greetings from Chip Griffin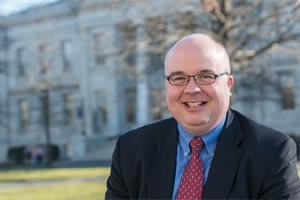 All good things must come to an end. This month marks the end of my two years of service as AU Alumni Board President -- so this will be my last message to my 120,000 fellow Eagles around the world.
I have enjoyed my time working with other volunteers, as well as the faculty, staff, and leadership of our university. I'm proud of the success that our graduates have when they leave campus and start or continue their careers. I'm proud of the contributions that our alumni make to support the education of the current generation of students -- and how those students thank those donors in return.
But I'm perhaps most proud of the time and effort that so many alumni volunteers put in to helping the AU community continue to grow and prosper. During my time as AUAB President, I have had the pleasure of meeting and working alongside volunteers from diverse backgrounds, spanning the full-breadth of AU's academic programs. 
I'm pleased to say that I will be leaving you in great hands. Andrea Agathoklis Murino, SPA-CAS/BA '98, served as vice president of the AUAB for the past two years and is one of the most dedicated, enthusiastic Eagles that I know. Among other places, you'll find her at many AU basketball games -- including some on the road! She will provide excellent leadership for the alumni community.
Although my service as AUAB President is coming to a close, I look forward to remaining an active volunteer and supporter of American University. And I'm sure I will continue to see many of you at events on campus and off.
- Chip