Internships
AP Dean's Internship Allows Azios to Leave Mark on Websites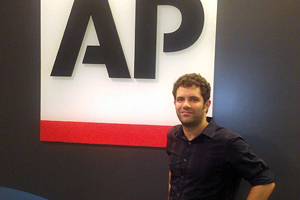 Below is a first person account from Dean's Intern Tony Azios on his internship at the Associated Press.

The Associated Press is a giant in the news industry. In a time of newspapers and TV news networks shuttering their foreign and regional bureaus, it is perhaps the giant. No other news agency has the combination of geographical reach, name recognition, and prestige that the AP has earned since it was founded in 1846. So, I was elated last fall when I learned that I had been selected to serve as a summer intern at their New York City headquarters.
However, I also felt some apprehension. I had worked in newsrooms before, as well as freelance reported abroad for reputable papers and radio programs. But this would be different. I was leaving my comfort zones of print journalism and video production and venturing into new domains. I was to be a Technology Associate and work closely with AP's Product Design team to test beta sites with customers, conduct user experience interviews, and produce reports that would help guide the future look and functionality of AP video and image products.
The opportunity to leave my mark on websites that top journalists and media production companies around the world would interact with daily to carry out their jobs was exciting. But I was unsure of what skills or insight I could bring to a team of web developers and designers. What did I know about those fields? Would I feel bored and stifled working in the Tech department as other AP interns ran around town breaking news?
I soon discovered that the skills and experiences I'd acquired while pursuing an MFA in Film & Electronic Media at American University were invaluable in this position. A firm knowledge of video formats and online video platforms were key to my success at the AP. Even more valuable was my level of comfort in speaking with newsroom managers, producers, editors, and video journalists about their workflows and content needs.
One project I worked on, AP Archive, allowed me to tap into my experience sourcing archival content for a FRONTLINE documentary with AU's Investigative Reporting Workshop, as well as for a 30-minute documentary I helped produce for Maryland Public Television in professor Sandy Cannon-Brown's course, Environmental and Wildlife Film Production. I drew from these experiences to understand the needs of customers producing a wide variety of media requiring the sourcing and licensing of images or video.
To my relief, the Product Design team found the feedback I compiled and reported to be quite valuable. Even though I was working in a new section of the newsroom and collaborating with professionals whose fields I had never studied, it became clear that the divergent experiences and skillsets I brought to the table were useful. Meanwhile, by watching my colleagues I learned how technology and business departments are innovating together to monetize content in a struggling industry – an area I knew little about but will only grow in importance in coming years.
And that concern that I would feel bored and stifled working in the Tech department? Although I'll admit to the occasional yearning to pound the pavement with a video camera or reporter's notebook in my hand, I was genuinely surprised by how creative and stimulating web design and development could be. While a career change to product design is not in my future, I have developed a deep respect for the field and a solid understanding of how a group of inspired artists use computer technology to design web portals – and develop them so aptly that thousands of media professionals all over the world rely on them to do their jobs.
AP is still the giant in the industry, and I am pleased to have had a first-hand look at how it reached such great heights.
The Dean's Internship program pairs SOC's top students with selected partner organizations for semester-long, for-credit internships. The competitive program provides extraordinary opportunities for undergraduates and graduates to have their work featured with named credits and bylines under national brands. Current Dean's Internship opportunities and application information