On Campus
The Meaning of Middle States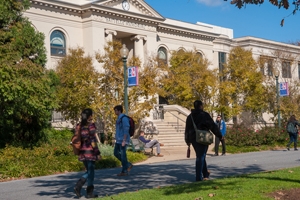 On March 23-26, a team of evaluators affiliated with the Middle States Commission on Higher Education will visit American University. This is part of AU's re-accreditation review, which occurs every 10 years. As part of this process, AU conducted a self-study, culminating in a comprehensive report for both the Middle States commission and the AU community.
The visiting team, led by Syracuse University Vice Chancellor and Provost Eric F. Spina, is expected to meet with a number of key organizations and officials on campus. This includes students and members of the President's Cabinet, the Board of Trustees, the Faculty Senate Executive Committee, and the Staff Council.
"Their purpose when they come is to determine how well American University is meeting the standards for accreditation—known as the Characteristics of Excellence," says Karen Froslid Jones, co-chair of the Middle States Accreditation Self-Study Steering Committee. "And the self-study really addresses those characteristics, but also comes up with a set of recommendations that AU would like to use in order to make the school even stronger."
No Stone Unturned
The self-study report is the result of a sweeping review that began more than two years ago. Leading the way is Froslid Jones and her Steering Committee co-chair Robert Blecker, an economics professor in the College of Arts and Sciences. The report leaves no stone unturned, describing the university in great detail and how it meets high standards for performance.
"The standards relate to things like administration, governance, budgets, faculty, student recruitment, programs, and teaching. It's pretty much everything a university does," says Blecker. "There's a big focus on whether we're doing proper planning and assessment in all these areas. Are we assessing where we have weaknesses and challenges? And are we planning on and actively working to address those things?"  
After the Steering Committee devised an overall self-study plan, separate subcommittees were established to examine how AU is progressing in specific areas and write drafts of individual chapters in the report. These chapters cover vital topics, such as faculty, undergraduate education, undergraduate student admission and retention, and graduate and professional education.  
Officials consulted with people across the university. Meetings were held with the Faculty Senate, the Board of Trustees, graduate students, and others. The entire AU community could offer input at town hall meetings and through the AU Middle States blog and twitter account.
"There were hundreds of people who were involved in one way or another in developing this report. And we really got a lot of great feedback from the university community," says Froslid Jones, who's also director of the Office of Institutional Research and Assessment at AU.
Self-Reflection
In addition to meeting requisite standards, AU uses the self-study to make recommendations for improvement. Middle States re-accreditation isn't just a requirement, but a valuable, healthy process to strengthen the university. Froslid Jones says the self-assessment was driven by goals outlined in AU's Strategic Plan.
"This really is a great opportunity for the university to be self-reflective. It's one of those opportunities where you can look at the university holistically, and look at how we're doing in all aspects of the things that are important to us and to our mission," she says. "It enables the university to come up with a few important recommendations that really are based on evidence."
Recommendations are included at the conclusion of a given chapter. In one section on advancing and supporting the AU mission, a recommendation is made to "incorporate the very best of a multidisciplinary and integrative approach that builds on the strengths of AU's liberal arts tradition." In the chapter on admitting, supporting, and retaining undergraduates, the report recommends developing "more transfer friendly practices in both academic and student support services."
The goals are designed to be realistic and attainable. "These are areas that really follow from the university's own strategic planning efforts. It's not supposed to be new or pie in the sky, but something we can do that would specifically address a need or a shortfall," Blecker explains.
And there is built-in accountability. As part of the five-year Periodic Review Report in 2019, AU will provide updates on how these recommendations are being implemented.
In fact, there are already signs of progress. From the chapter on undergraduate education, the Faculty Senate recently approved a measure to update AU's existing university-wide undergraduate learning outcomes to reflect the knowledge and skills that all AU graduates must master.
Despite the heavy lifting, Froslid Jones has found the whole process satisfying. "What I really enjoyed about working on this report is the fact that so many people are so committed to the institution, and they're really willing to work on those challenges."