Alumni
Alumni Size Up Entrepreneurship in Fashion Industry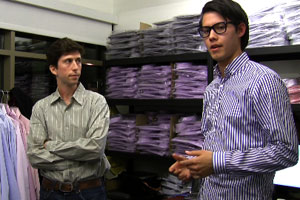 No holiday season would be complete without an itchy sweater or a stiff collared shirt. They seem to star in every family photo before they are stuffed back into storage boxes when the weather warms.
But winter clothes don't have to be such a drag. Two Kogod alumni are here to help.
Justin Bridges, BSBA '08, shows his readers how to spice up their wardrobes on his blog Tucked. Philip Soriano, also BSBA '08, and his team at D.C.-based men's apparel company Hugh & Crye promise to find dress shirts for dads, grandpas, and young men that not only fit, but fit well.
It's the time of year to gather up wish lists and go shopping. Consumers spent $446.8 billion during the 2009 holiday season, according to the National Retail Federation, and the holidays are the busiest time of year for most retailers.
So find out more about these alumni and style experts - then add a few Hugh & Crye shirts and a tad of Tucked inspiration to your wish list.
Justin Bridges – Tucked LLC
Justin Bridges, BSBA '08, picked up photography in college and fell in love with fashion when he moved to New York, but he grew attached to the lifestyle his Wall Street salary afforded.
"I was cheating myself and starving my creativity for a buck," Bridges said. "My former boss, and current mentor, told me, 'Your face lights up when you talk about [creative projects], but when it comes to Goldman, you never seem to be excited.'"
When Bridges' two-year analyst contract with Goldman Sachs wasn't renewed, he searched high and low for a new finance job. After awhile, the false job leads and a fading desire to work in the finance industry took their toll.
Something his mentor said stuck with Bridges: If you follow your heart, the money will follow.
Bridges' corporate retail position at a top fashion company now pays the bills, and his love of photography and fashion merge in his "other day job" as a fashion blogger and stylist.
Bridges' company, Tucked LLC, offers customers fashion consulting, photo shoot styling, personal shopping, and more. His blog highlights all the fashion trends and experts worth knowing.
"There's nothing typical in the land of creativity," Bridges said. "I have started taking on photography projects and they all vary. I have done lifestyle shoots for a fellow blogger. I have done a product shoot for an eBay store and a boutique in the Lower East Side of Manhattan…I am excited about how different each client can be!"
Bridges said his Kogod education was a catalyst in his transformation to becoming the leader people always knew he could be.
"At Kogod, it isn't strictly an education in books," Bridges said. "Kogod fosters talent, and that is a big deal."
Philip Soriano – Hugh & Crye
Like Bridges, Soriano also has two jobs: one as a junior account at The Lab School of Washington and another moonlighting as the customer service point man for Hugh & Crye in Georgetown.
True to the company's motto, — "We make shirts that fit"— Hugh & Crye seeks to replace the sloppy sleeves, saggy shoulder seams and blousy bodies of readymade dress shirts with shirts built for specific body types. Customers choose a shirt by their height (short, average, tall) and torso size (skinny, lean, broad).
Soriano interned with the company after coming across a listing on AU's CareerWeb.
"After checking out the website, I was immediately hooked to the concept as a customer," Soriano said. He met with Hugh & Crye Founder and CEO Pranav Vora, then went home and bought two Hugh & Crye shirts. 
"Once I received my shirts in the mail, I witnessed the steps of a customer firsthand. I saw the potential and was captivated by the company. I wanted to get involved."
In the company's 11 month-old life, it's gained some buzz. NBC Washington profiled the online-focused company in August. This fall, H&C held a "Who Gives a Shirt" drive, collecting gently used men's shirts from customers in exchange for a discount on a Hugh & Crye purchase. The company expanded the drive in October, placing clothing racks on seven floors at the Corporate Executive Board. In one week, they collected 500 shirts and donated them to Martha's Outfitters.
Soriano credits internships as the best preparation for working with the start-up business and everything that comes with it.
"AU students have the opportunity to go out and 'do' rather than solely 'learn about,'" Soriano said. "My internships allowed me to pick up skills along the way that I couldn't find in the classroom, such as time management, talking comfortably to execs, and a general knowledge of the industries that I worked in."
Looking for a similar experience? Hugh & Crye is looking for interns in marketing, event planning and retail.