Dean's Picks: A Legacy of Leaders
Latest Stories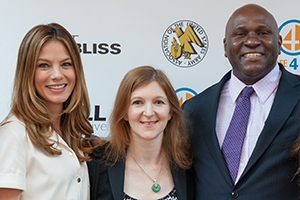 Focus on Military Families at VIP Screening
'Fort Bliss' event drew star Michelle Monaghan and Colonel Parker of the White House's Joining Forces initiative. Read more.
Screening starts Friday, Sept. 26 at West End Cinema.


SOC's Top Achievements of 2014
2014 is shaping up to be a big year for the AU School of Communication. Read more.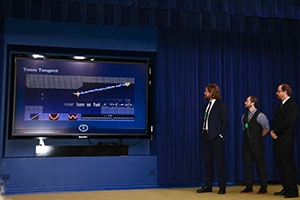 Jamming at the White House
AU professors invited to first White House Educational Game Jam. Read more.
In the News
Under New Ownership, WJLA-TV Takes a Slight Turn to the Right
School of Communication professor Charles Lewis spoke to the Washington Post about WJLA-TV's change in ownership and how the new owner's viewpoints differ from the previous owner. Learn more.

Hollywood's Medical Storylines Vetted by Those Who Know
School of Communication professor Kathryn Montgomery spoke to Kaiser Health News about the nature of political, social and health messaging in entertainment television. Montgomery specifically noted the ethical concerns on whether the public should be made aware of the influences. Learn more.

AU Wonks on Ferguson, Missouri, Police Shooting and Protests
Amidst the turmoil following the fatal shooting of Michael Brown in Ferguson, Missouri, SOC professors Talan and Steinhorn discuss social media's role and the White House reaction.  
Macworld to End Its Print Edition and Lay Off Many of Its Employees
Associate Journalism professor Andrew Lih spoke to the New York Times about the monthly print edition of Macworld's demise because of its failure to keep up with other technology sources like CNET. Read More.

When Wildlife Documentaries Jump the Shark
Center for Environmental Filmmaking director Chris Palmer spoke to NPR about conscious filmmaking and discussed how the line between authentic documentaries and "docufiction" is often blurred by deceptive editing and staged animal interactions. Palmer discussed his own experience using animals in filmmaking. Learn More.

Upcoming Events

SOC Faculty Forum
September 23 11:00 a.m.
935 Lies: The Future of Truth and the Decline of America's Moral Integrity with professor Charles Lewis. Use #SOCFacultyForum to participate in the conversation.
Learn More.
CEF Film Series—Nat Geo Goes Wild!
September, 23 7:00 p.m.
Learn more.
International Cinema Series: Italian Film Series
Starting September 26
Co-hosted by SOC, the National Gallery of Art, and the Italian Embassy Cultural Institute. Learn More.

Coffee & Conversation with Dean Rutenbeck
September 26 3:00-4:30 p.m.
Learn More.
Human Rights Film Festival
Beginning October 1
Learn More.

Photo Night @ SOC—Powered by PechaKucha
October, 3 6:00-8:00 p.m.
Learn more.
Please send your suggestions for Dean's Picks to Dani Rizzo.