International
Global Hope, American Dream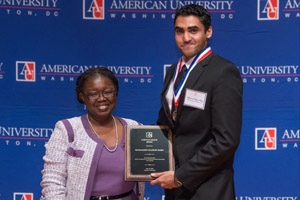 After graduating from high school in Sri Lanka, Nazran Baba, CAS/BA '12, knew that he wanted to go to college in the United States.

"My goal in coming here was to find myself," he says, "to do something practical with my life in order to better myself and my community back home."

He encountered American University (AU) at an international career fair in Sri Lanka, and found several compelling reasons to apply, including the university's highly rated Career Center and large international student body. 

"I knew [AU's] high international population would provide me with a diverse campus," says Baba. 

AU's student body includes over 1500 international students from over 130 countries.


"We take pride in that diversity," says Senem Bakar, director of the International Student & Scholar Services (ISSS) office at AU. 

ISSS offers comprehensive support for international students. The office guides students through the visa authorization process, assists with cultural and academic transitions, and provides advising services and information.

"We try to be a home away from home for them," says Bakar. "We tell them, 'We are here because you are here. We are your office.'"

Along with workshops, walk-in advising, and an annual on-campus event with an immigration lawyer, ISSS partners with the Career Center to help students maximize their chances for success. It can be difficult for international students to find positions that offer visa sponsorship, as the number of visas available each year is limited and competition for such jobs is often very high.

"We understand the unique challenges that international students face seeking employment in the U.S.," says Gihan Fernando, executive director of the Career Center. "There are many barriers, so it is doubly or triply important for international students to start early, seek out internships, and demonstrate value. The Career Center is here to help students identify opportunities and highlight their own potential."

Taking Initiative

For Baba, beating the odds meant starting early and taking advantage of every resource and opportunity at AU.

"I used career guides. I did mock interviews. I used the Career Center database. I would also go to the job fairs, attend international-specific career events, and networking panels." Of the resources available to students, he says, "I feel like I milked [the Career Center] dry for everything they offered."

His initiative and persistence paid off. 

Baba won first place for best social sciences paper presented by a freshman or sophomore at the CAS Research Conference, received AU's prestigious Carlton Savage Award, and soon after graduation, was offered a job at ICF International, a management consulting firm in D.C.

Taking initiative and seeking out help can make all the difference, says Aljawharah Alassaf, SPA/BA '14. Coming to AU with work experience gave her a useful perspective on how to approach her job search.

"You can't expect things to be handed to you… that you will walk in and they will hand you a job," she says. "What you get out of it is equal to the time and the effort that you put in."

Alassaf visited the Career Center several times for help with her resume and cover letter. Her sophomore year she interned at The World Bank, and upon graduating last spring was deciding between a full-time job offer in the D.C. area and graduate school.  

Like Alassaf, Jiao Yu, CAS/MA '13, sought out every available resource and opportunity at AU. 

Her first summer at AU she supplemented her degree in statistics with an internship at a nonprofit, and simultaneously worked on a research project with her academic supervisor.


"I visited the Career Center a lot of times, and it was very helpful to me," says Yu. She gives special credit to Marie Spaulding, CAS career advisor. "I learned how to write and format resumes and cover letters, how to network, and how to follow up with applications from [Marie]. She cares about our special situations [as] international students."

Looking Back, Looking Forward

Reflecting on their time at AU, all three graduates have something to say.

"Learn to network," says Yu. "Don't be afraid of talking to people, asking questions and sharing your opinions."

She says networking is one of the main reasons she got the full-time job she has now at American Institutes for Research.

"There are so many resources available, sometimes people just need the guidance or the knowledge to use them," says Alassaf. "Don't be shy with the language, just ask. Be confident. Get involved."

Baba seems to have found that confidence.

"I think AU helped me discover what I like and love, and to be honest with myself," says Baba. "To me, success means reaching a certain level of comfort, both material and spiritual, and then being able to give back and finding peace in that. That is probably my end career goal—to attain my kind of success."





Information and resources for international students can be found at the Career Center and the International Student & Scholar Services websites.