First Person
Through a Student's Eyes: The 2012 NYC Site Visit Trip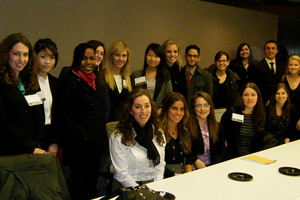 American University students call the city of Washington, D.C., home for roughly eight months of the year. Yet the start of 2012 meant that I, and a group of my fellow AU students, would be taking on a different city: New York.
For the tenth consecutive year, 85 students gathered for a fast-paced, three-day glimpse into the marketing and media mecca that is NYC. Co-sponsored by the AU Career Center, Kogod and the School of Communication, the New York City Site Visit Trip took students to an impressive list of companies, where I would argue any of us would be happy to work post-graduation. 
With more than 20 potential site visits to choose from, it was quite possibly the most condensed, career-focused three days I've ever experienced. This year's hosts included Nickelodeon, Ketchum, Google, The Associated Press, Live Nation, Steve Madden, and many more.
Tuesday, January 10: Arrival and Kick-Off
I checked into my hotel with two other site trip attendees where we unpacked our business attire–hanging up our pressed shirts just as our parents had carefully reminded us to do–and soon ventured out to Caroline's on Broadway for the official kick-off. Maggie Mistal, a career coach ranked as one of the best by CNN, started the evening with a presentation. We discussed proper etiquette and practiced what Mistal refers to as personal "elevator pitches" where you have fifteen seconds to create a great first impression.
We also learned the art of asking: Asking ourselves where we truly want to be in five, ten, twenty years, and how to ask the right questions at the visits. She also told us not to be afraid to ask for guidance from professionals we would meet over the next two days, some of whom were job searching not too long ago.
A comedy show featuring several comedians from Comedy Central concluded our evening. AU was the focal point of many jokes, leaving most students hysterical.
Wednesday, January 11: The Associated Press, MMW Group, Food Network
After carefully analyzing my map, I realized that the day's first visit, The Associated Press, was within walking distance of my hotel. I decided to take advantage of the beautiful morning, grab a cup of coffee, and make my way to West 33rd street.
After checking in with a Career Center advisor, my group waited in a lime green-painted lobby before meeting Xavier Williams, the Senior Human Resources Administrator who discussed his background, the latest news about the AP, and helpful tips about how to start a successful career. He focused on an idea of "advocating for self," and reiterated Mistal's point from the night before of asking for what you want. He also suggested, "getting as many experiences as you possibly can" not only to test out different career options, but to also develop a well-rounded contact list.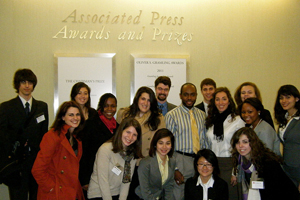 He then introduced Lorraine Cichowski, SOC '76, Senior VP and CIO at AP. She spoke of her unconventional route to a job she now loves. She also pointed out the fact that in an Internet-based era, "every employer is going to be looking for digital skills." A tour of the large newsroom, which can house up to 700 journalists and staff members, wrapped up the visit.
Next, I ventured with a few new friends to Park Avenue South to MMW Group, a medium sized public relations agency, where hardwood floors meet dark grey walls and flat screen televisions display the company's latest accomplishments. First, we heard from Senior Vice President Joe Cohen. He discussed the internal layout of the company and its nine departments ranging from consumer lifestyle marketing to development for grassroots organizations. Cohen then offered the following pieces of advice: to be both an active user while also being an early adopter. He suggested testing and using all of the latest social media tools, taking risks when branding, and doing it all in the beginning stages of development because it will keep you ahead of the game.
I then traveled to 9th Avenue to Food Network, where Leah Lesko, a 2010 Kogod Marketing graduate, discussed her role as a consumer marketing coordinator. She talked about her work for both the Cooking Channel and Food Network where marketing is focused on the culture of food coupled and the experience food brings at the Cooking Channel, while Food Network concentrates on branded entertainment because of its celebrity-chef component.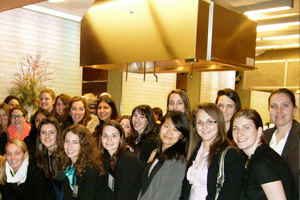 At the conclusion of our visit, our female-dominated group marched our high heels down into the subway and to the Aspen Social Club for the evening's networking reception. I was able to connect with people I had wanted to talk to and that I did not get to visit based on the limited number of people allowed per site. My friends and I left fairly tired, but with a surplus of business cards in our pockets, and ready to tackle Day Two. 
Thursday, January 12: Ketchum, Live Nation, Pandora Radio
Despite what seemed like sideways rain, followed by a crammed subway ride and more umbrella-inverting rain, aqua blue walls brightened the morning at Ketchum, one of the world's largest public relations agencies, with over 100 offices in over 65 countries.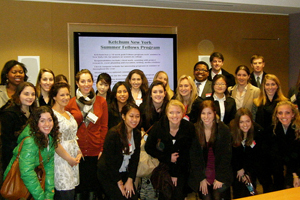 We met Barri Rafferty, the New York office's senior director, who distinguished Ketchum as a company with five core focuses. Within these, account executives "create breakthrough ideas on a day-to-day basis" with a focus on integration. She gave the "Tea will be Loved" partnership between the band Maroon 5 and Snapple as an example. Our visit with Ketchum concluded with a presentation by Adriana Castillo, the current Human Resource Specialist. She underscored the importance of an effective cover letter coupled with a straightforward resume.
Next on the day's agenda was Live Nation. Instead of meeting in their corporate offices, Andy Peikon, SPA '76 and vice president of national sales, greeted us in Irving Plaza, a venue that holds over 1,000 concertgoers weekly in NYC. Like Williams at the AP, Peikon also stressed the significance of experience. When considering job applicants, he explained that one of the first things he looks for is how they attempted to learn and grow outside of the classroom. He clarified that he does not expect millions of internships, but one or two definitely demonstrates initiative and passion, qualities that employers absolutely look for.
My last visit was with Pandora Radio. A sleek office was filled with workers happily plugged into headsets, listening to their customized radio stations as they worked on everything from advertising, to strategic communications, to analysis of new songs. 
Our group met with Aimee Higgins, vice president of strategy and planning, who explained that the success of Pandora Radio lies within the concept that "people of our generation (18-34 year-olds) want everything personalized." Another executive told us that there are new opportunities within the company with the addition of comedy stations and the introduction of video.
After two and a half very nonstop days, the New York City Site Trip exceeded my greatest expectations. Not only was I able to talk with a wide array of people, the trip sparked excitement and provided an opportunity for self-discovery. 
It was incredibly motivating and inspiring to hear from young professionals and be among a group of committed and motivated AU students with similar interests. I would love to do it again next year!