Internships
Job and Internship Fair Pays Off for AU Sophomore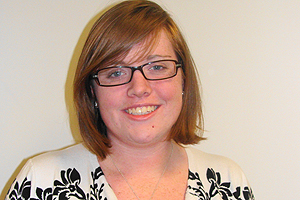 When Kelsey Cadden attended the Career Center's spring 2009 Job and Internship Fair, she never could have known that her future internship employer was only a smile and a handshake away.
"When I was talking to the [recruiter] at the career fair, we just bonded," Cadden said.
Cadden, a sophomore double majoring in international relations and economics, credits that initial meeting to landing her current position as a membership intern at the Truman National Security Project. While her friends were stressing about finding an internship, hers was already secured.
Cadden has worked at the organization since May 2009. The Truman National Security Project fosters a new generation of progressives capable of addressing and communicating about national security issues. While the organization's goals are big, the office is small, so Cadden tackles several substantive projects. She is currently helping to plan and organize the Project's mid-year conference, including researching venues and confirming speakers, and previously helped set up the program's new application process for fellows.
This summer Cadden also worked to plan an event at the Marine Corps Base Quantico in Virginia. She was able to watch a helicopter of the same model that carries the president take off and even tried riding a watercraft.
"I got soaking wet!" she said.
Cadden's internship experience further demonstrates the connections between AU and the greater Washington, D.C., area. In fact, she discovered while interning that one of her fall 2009 professors was a Truman fellow.
"I was going down the list [of fellows] and said, 'Hey, I recognize that name!'" Connections through the Project also provided her with tours of both the Pentagon and the Oval Office's West Wing, which she considers the highlights of her internship thus far.
In addition to finding her position at the Job and Internship Fair, Cadden has had her resume critiqued by a Career Center advisor. The session helped her fine-tune the information that would be relevant to prospective employers.
Cadden accomplished all this by her sophomore year—but she isn't stopping yet. She knows for certain that she will study abroad her junior year in Belgium and South Africa, while law school might be in her future after graduation. She is interested in the field of international law, particularly arbitration between countries, and believes her internship is helping her learn more about these issues.
Cadden is just one of many AU students pursuing extraordinary opportunities in their respective fields, but she does have an idea of what sets her apart from others.
"A lot of it is personality. [It's] being dedicated. [I] stay until [my supervisor] says, 'Go home, Kelsey!'"