Student Success Story
SOC Intern Meets the Press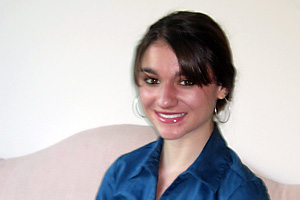 Amanda Glensky '09 never griped over her internship's 4 am start time — she lived for it.
Although her alarm rang early, the thrill of contributing to Meet the Press was enough to get this School of Communication student out of bed with a desire to excel at her job.
After browsing the Sunday morning talk show's websites for interesting internships and finally having a cooperative schedule, Amanda achieved that internship, "the dream job," the one every undergraduate covets. It was truly been everything she hoped for.
Although there is little glamor in Xeroxing or "writing copy last minute," Amanda understood the importance of her position and the opportunities it can provide, especially when you, "consistently do your best."
Although the levels of chaos in broadcast journalism varies, Amanda kept a level head and it showed. For example, after answering an off-hours phone call from her supervisor, Amanda was asked to assist in an interview the next morning on Capitol Hill featuring John Kerry (D-MA), Patrick Leahy (D-VT), and Tom Carper (D-DE).
This internship even placed her in the center of the political storm surrounding the 2008 Presidential election.
For those looking to follow in Amanda's footsteps, this burgeoning journalist has some interview advice.
"Be open with your answers," she says. "You are selling yourself. Make sure to tell them anything you think is important and it will push you above the rest."