Student Success Story
Snagging a Seat at the State Department's Haiti Desk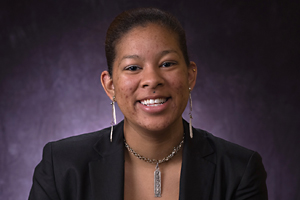 If something is happening in the Dominican Republic or Haiti, chances are Ashley Clingman-Jackson '10 knows about it.
As an intern at the State Department's Dominican and Haiti desk, it's Clingman-Jackson's responsibility to devour every tidbit of information she can get on the Caribbean nations. Every morning the School of International Service student Google searches the countries, scans newspaper articles on their political situations, and speaks with U.S. foreign service officers in the region. It's her job to keep the right people at the State Department informed about what she finds.
The Detroit native hopes one day to attend law school and pursue a career in international relations. For now though, Clingman-Jackson is putting in 20 hours a week at the State Department after working 40 hours a week at her summer internship.
"I didn't come in with any expectations, I really wanted to figure out whether this was right for me," says Clingman-Jackson, whose Spanish language skills helped her land the job. "I definitely think I am going to work in the State Department before I go to law school. I feel like they'll complement each other."
She credits AU with helping her land the prestigious position. "If I'd gone to any other school, I never would have thought of interning at the State Department," she says. "Living and studying in D.C. helped me realize you can actually work at the State Department. It's a career path."