Student Success Story
Grassroots Internship Inspires Student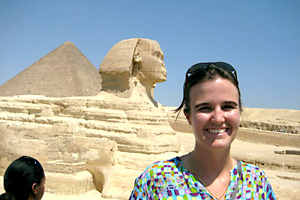 Ashley Evans '09 has long been interested in issues concerning the Middle East. She just wasn't sure what to look for in an internship.
By working with Career Center advisors and taking advantage of their resources, the School of International Service and College of Arts and Sciences student was able to find an internship at the United Palestinian Appeal.
There she was responsible for leading student outreach programs nationally and assisting in day to day operations. She was able to use skills she honed in college and apply them in a work setting.
Evans also learned the power of small, grassroots organizations. At these smaller groups, she saw firsthand the dedication and drive of the staff, improving her work ethic and commitment to the cause.
Not only was this a rewarding experience, the internship strengthened Evans's desire to turn advocacy into career. After graduating, she intends to utilize her Middle Eastern Studies and Arabic academic work to propel her personal interest of empowering Middle Eastern women.