Student Success Story
Yes She Can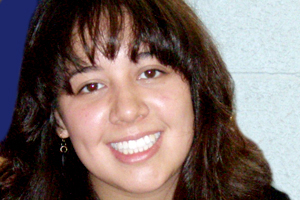 The slogan, "yes we can," took on a whole new meaning for Brittany Horowitz, SOC '12, when she volunteered to work as a Fox News runner during the 56th presidential inauguration.
"I had such a great experience at the inauguration…the learning atmosphere was incredible."
Horowitz, a public communication major and graphic design minor, capitalized on her volunteer experience by applying for a summer 2009 internship at Fox News headquarters in New York City. Her hard work during the inauguration helped Horowitz get her foot in the door.
While her friends back home in New Jersey enjoyed the summer at the beach, Horowitz spent her time commuting to and from New York for her full-time internship. Despite the long commute and exhausting workdays, Horowitz arrived at Fox News each morning ready to work and learn. "I knew I was coming to work every day with a purpose. There's always room to learn," she said.
And learn she did. By the end of her internship, Horowitz had developed an entire portfolio of substantial work samples. She also explored different opportunities in production she might not have otherwise considered. Horowitz shot and edited video for the first time and learned to tweak her writing to be Web-friendly. She also worked on the health section of foxnews.com and was even published; the site features two articles by Horowitz about healthy college lifestyles and healthier junk food options.
"I've learned about every element that goes into producing the news," she said. "I never once made copies [or] coffee."
Now back at AU, Horowitz makes time to participate in several clubs and activities. She writes for the The Eagle, AU's student newspaper, and is a member of Art Enthusiasts.
To anyone pursuing a similar path, Horowitz urges, "Seek out internship opportunities and take the initiative. Don't sit back and wait for something to happen."