Student Success Story
A Hill of an Experience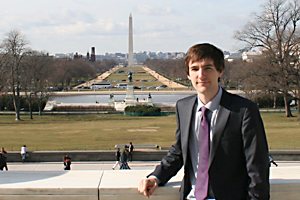 The idea of a Capitol Hill internship appealed to Ben Tingle, SPA/BA '11, since his arrival in Washington. After transferring to AU from Roanoke College in the fall of 2009, he quickly took action and sent out resumes to representatives he admired. Thirty applications later, Tingle received an acceptance letter from the Office of Rep. Barney Frank (D-MA).

He had not yet interviewed with Rep. Frank's office, so he called to see if he should meet with his staff before accepting the position. Tingle was pleasantly surprised when the coordinator told him, "Honey, I've been doing this awhile, and I know a successful applicant when I see one."

Tingle enjoyed the freedom to fully experience working at the Capitol by watching Congress in session and attending committee hearings, and was able to follow his interest in finance, as Rep. Frank is chairman of the House Financial Services Committee. Tingle also worked with the committee staff and witnessed legislation and congressional oversight of the International Finance Corporation, a private institutional member of the World Bank Group.

Apart from the excitement of the internship, Tingle also learned that high stress levels are a fact of life on Capitol Hill. Yet even under pressure, he says, Rep. Frank was "spot on with wit."

Not long after his infamous "arguing with a dining room table" comment, Rep. Frank was confronted by a group of angry Tea Party protesters throwing pieces of paper at his office door. Tingle paused to see how the congressman would react. According to Tingle, Rep. Frank asked who his constituents were and invited them into his office for a private conversation. However, the crowd blocked the entrance to his office and was eventually escorted out of the building by Capitol Police. Rep. Frank then joked with the remaining crowd that while he thought he was talking to a dining room table back in Massachusetts, he now found himself in a "furniture warehouse."

Although his position required long hours, Tingle said congressional internships are well worth the hard work if you believe in the representative and their major policy initiatives. He also believes that his Hill experience has directly benefited his career trajectory and prepared him for his next endeavors.

Following his semester with Rep. Frank, Tingle landed a job as a personal assistant to former U.S. Senator John Culver (D-IA), a position he found while browsing through AU CareerWeb. In addition, Tingle recently earned a Student Career Experience Program (SCEP) position with the U.S. Department of State's Rapid Response Team, where he evaluates reclassification and declassification requests dealing with the Freedom of Information Act. The SCEP position will lead to a full-time job upon completion of the program.

"I knew transferring to AU would be filled with incredible new experiences, but I never could have guessed it would involve so many exciting internships and the chance to continue work at the State Department after graduation," says Tingle.

Through a multitude of work experiences, Tingle has deepened his interest in public service--and affirmed his decision to transfer to AU.