Student Success Story
Career Opportunities Abound in Field of Communications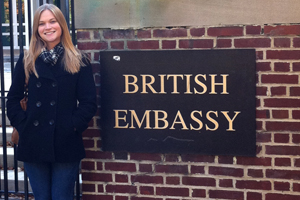 Whether studying public policy, international studies, or science, many American University (AU) students are finding the field of communications to be wide and inviting.

"Employers increasingly need people who know how to connect with their target audiences," says Bridget O'Connell, director of outreach and marketing for AU's Career Center. "Opportunities exist for students from a variety of academic disciplines who demonstrate subject matter expertise and strong communication skills."

While searching through AU CareerWeb, Lauren Powell, SIS/BA '13, found a communications-oriented internship with the Embassy of the United Kingdom to the U.S. As an international studies major with British ancestry and a desire to gain professional experience in communications, Powell says the role could not have fit her better.

Through her internship in media outreach and management, Powell writes summaries of official briefings from the White House and U.S. Department of State, sends event invitations to leaders of major think tanks, and helps maintain the Embassy's database. The position also allows her to network with foreign policy experts and ambassadors at the high-profile events that she helps plan and promote.

One such event was a reception for British and American soldiers receiving treatment at Walter Reed National Military Medical Center. Powell secured donations for the soldiers from a range of companies and was responsible for communicating with media sources about the event.

Working at the British Embassy "has been the best internship I've had so far," says Powell. She now plans to pursue a career in media relations with a government agency.

Meanwhile, Ana Santos, SIS/BA '14, is gaining communications experience by serving in a highly-competitive internship with National Geographic's Image Collection Department, where she edits, manages, and catalogs images for upcoming exhibitions and books. A past position as photo editor for The Eagle helped her get a foot in the door with NatGeo.

In addition to her longtime interest in photography, Santos believes that her background in international studies provides her with a more nuanced understanding and deeper historical appreciation for the photos she manages that cover events, cultures, and locations from all over the world. They provide her with what she calls "an insider's view to history."

This spring, Santos will continue to apply her degree within the field of communications by serving as a photography intern with National Geographic's Traveler Magazine.

Michala (Kayla) Phillips, CAS/BA/MS '13, an environmental science major, also gained communications experience by working for an on-campus publication. As a writer for Catalyst, American University's science magazine, she drew from her deep knowledge of science to communicate complex issues to a broader audience.

She says that interviewing professors and students working across a variety of scientific disciplines and reporting on their research expanded her scope of interest beyond her own major, while reinforcing her decision to pursue a career in communications.

Indeed, Phillips found writing for Catalyst to be such a fulfilling experience that she is now considering becoming a science reporter.

"I would love to write for a science magazine eventually, to get this information out to masses of people instead of just the science community," says Phillips.

These three students have leveraged their passions and area-specific knowledge to help their employers connect with their audiences. In the process, each has increased their own marketability by gaining valuable communication skills.