Student Success Story
A Philosophy Major's Place in the Real World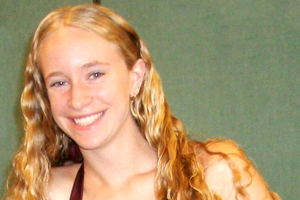 Though Casey Nitsch is majoring in philosophy as well as foreign language and communication media, it is her philosophy major that always grabs people's attention. She is often bombarded with questions about how she plans to use a philosophy major after graduation. Philosophy might seem like a broad subject, but Nitsch's internship with Easter Seals has proven that the academic discipline is relevant to the real world and the nonprofit sector in particular.
Easter Seals serves people with disabilities and special needs by funding various nonprofits and companies that are directly involved in researching and administering treatment. Nitsch interns in the grant development group, where she works on contacting donors and researching new foundations Easter Seals might work with. She is also responsible for designing programs for companies express interest in raising money for Easter Seals.
Additionally, Nitsch has collaborated with the government relations team, which focuses on legislative issues affecting people with disabilities. In late October, interns from both teams distributed packets to members of Congress while organization staffers spoke with congressmen about supporting healthcare for people with disabilities — regardless of political leanings.
"Particularly with social justice issues, philosophy is a great lens [to use] to think about policy," Nitsch explained. Nitsch is earning academic credit for her internship, which she found through her philosophy professor and advisor Ellen Feder. "[An internship is] a great way to take a major that's abstract and make it applicable and marketable," Nitsch said. She likes Easter Seals' culture of teamwork and appreciates that interns' contributions matter as much as those made by employees. "When I say something, they take it seriously."
Nitsch has gained great insight on the nonprofit and government sectors through her internship and has developed practical skills that will be helpful in the future. "They showed me how to create a budget. I'm a philosophy major; I didn't know how to do a budget," Nitsch said.
Nitsch stressed that being honest and realistic about your career goals helps in finding the right internship as well as identifying what doesn't work. She previously interned with a telecommunications newsletter and discovered that the field wasn't the right match for her interests.
With her experience at Easter Seals under her belt, Nitsch hopes to stay in the nonprofit sector. She is in the BA/MA program at AU and will work on her MA in philosophy and social policy after she graduates in 2010. While attending grad school, she intends to work part time or intern to teach others how philosophy can be applied to the public policy and the government sectors.