Student Success Story
Try A Wild Summer at the National Zoo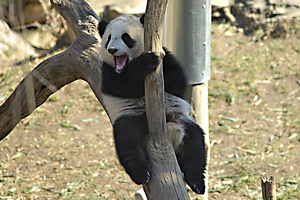 Lions and tigers and bears, oh my! Master's candidate Caitlin Lukacs '08, enjoyed a wild summer at the National Zoo.
As a communications intern with the Friends of the National Zoo (FONZ), Lukacs wrote for ZooGoer the bimonthly members' magazine, penned animal profiles for the Web, and helped coordinate a photo shoot with the zoo's trio of Asian elephants.
"From media relations to publications to the Web site, I feel like I've been exposed to every aspect of communications," says Lukacs, who graduated with a master's in journalism and public affairs from SOC in August. "Getting a behind-the-scenes look at zoo operations was pretty amazing, too."
When she wasn't updating FONZ's calendar of events or helping a local TV reporter with a segment on tarantulas, Lukacs enjoyed exclusive tours of the tiger and panda exhibits.
"We weren't close enough to touch the animals, but we were able to talk with the zookeepers and enjoy a part of the zoo most people never see," she says.
Lukacs hopes to pursue a magazine writing career, but says, "This internship opened up my eyes to public affairs. I'd love to work at a place like the National Zoo–a place that's doing honorable work that I can feel good about promoting."