Student Success Story
Securing a Career at the State Department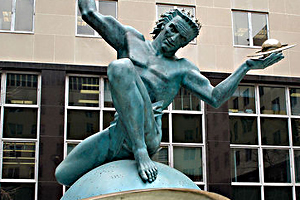 Chris Chiang '09 has dual roles. He's a student in the School of International Service and College of Arts and Sciences and a case analyst trainee at the U.S. State Department. 
At the State Department, Chiang learned the importance of taking initiative, especially in an internship that could potentially lead to a more permanent position. 
"It's more than just a job," he says. "It's a career. You have to want this type of position."
As a student trainee, Chiang facilitated and researched information requested by citizens under the Freedom of Information Act, which required a security clearance and some great research skills.
Chiang fused his interests in foreign policy, diplomacy, and economics into a rewarding experience. The internship not only required great responsibilities, it also gave him insight into what it's like to be a Foreign Service Officer.
Chiang has secured a full time position as a government employee upon graduation and is on the path to becoming a Foreign Service Officer.