Student Success Story
Udall Scholar Fishes for Clean Water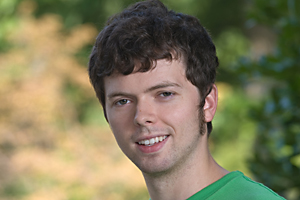 A family tradition steeped in environmental activism led Drew Veysey '10 to AU.
A passion for clean water, renewable energy, and sustainable urban planning led him back home this summer to Ames, Iowa where he interned with Iowa Global Warming.
As a political organizer, the School of Public Affairs and College of Arts and Sciences student collected petition signatures, recruited volunteers, and bent lawmakers' ears on issues that ranged from ethanol to anti-sprawl initiatives.
What he loved most, however, was hitting the pavement and talking with passersby about global warming and climate change.
"This summer, I really learned how to make these issues matter to the lives of average people," he says. In order for the environmental movement to gain traction, he believes, "we have to organize on all levels, from Washington, D.C., to Des Moines, Iowa."
His sense of urgency on behalf of the environment, Veysey explains, stems from his grandfather who taught him fly fishing. Naturally, their pastime led to a commitment to clean water. 
"We have tremendous problems with our water in Iowa, and that obviously hurts fly fishing," he says. 
By the time Veysey set out for college in 2006, environmentalism had become his professional calling.
"An Inconvenient Truth had just come out, and that cemented everything for me," says the 2008 recipient of a prestigious Morris K. Udall Scholarship, which is awarded to future environmental leaders.
Assessing his desire to fight global warming, Veysey says, "It's the difference between believing and acting, and believing and not acting. I can't live with myself if I don't act on my convictions. For these problems to be solved, it's going to take all of us coming together, acting as one."