Student Success Story
Intern seeks true change
Jillian Rubino found her niche in the Gay and Lesbian Victory Fund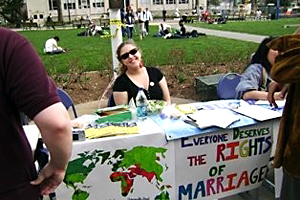 Jillian Rubino '09 has her sights set on changing the world.
This School of Public Affairs student found her niche in the Gay and Lesbian Victory Fund. Jillian believes that change can only come from electing LGBTA candidates at all levels of government.
"Changing the face of legislative leadership has a greater impact on issues," she says.
As an intern for the development team, Jillian assisted in coordinating fundraising events and award ceremonies for candidates. Although it was at times frustrating to dive into the seemingly endless administrative tasks, Jillian did it with panache.
"No matter what, I do it with enthusiasm," she says.
This desire was apparent to her colleagues who often commented how they wished she worked full time.
After graduation in May 2009, Jillian began working at the Victory Fund as the organization's full-time marketing fellow.