Student Success Story
Student's Goals Translate to Service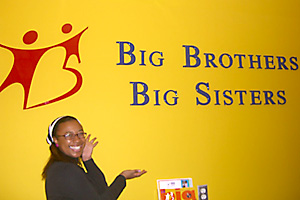 Most students interested in medicine focus their internships on traditional medical fields such as biology or chemistry.

Lauren White '09 chose another path.  

As an intern for Hermanas y Hermanos Mayores, a Big Brother/Big Sister program for Latino youth, the College of Arts and Sciences student combined her Spanish studies major and her interest in pediatric medicine.

The internship exposed White to an array of interpersonal, management, and human relations skills, components vital in approaching a successful medical career.

Specifically, White assisted in reference checks, conducted interviews with prospective "Bigs" and assisted in every step of the matchmaking process. Though the process was not always successful, she feels these tasks helped to make a difference.

"You can't match every kid," she says. "Sometimes there are defensive walls in place, but when it works... it has a powerful impact on a kid's life."

White plans to continue helping children. She is anxiously waiting for an acceptance letter to medical school where she hopes to continue her studies in pediatric health.