Student Success Story
SIS Master's Student Reconstructs the Box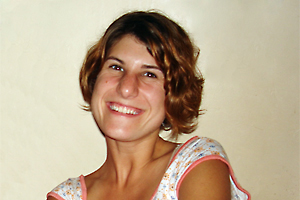 When Mandy Toomey graduated from the University of Minnesota in 2001 with a BA in journalism, she sought a job that would allow her to make a real community impact. Large publications weren't on her list of target employers, but she found exactly what she was looking for in a New York Times article. The piece about Teach For America (TFA) not only inspired her to join the corps; it also exposed Toomey to life experiences which she's now tying together through a custom master's program at American University.
Through TFA, Toomey taught English at a high school in San Jose, California, for two years. While there, she took capoeira, an Afro-Brazilian art that is similar to martial arts, and became interested in the country. After Teach For America, Toomey left for Campinas, Brazil, knowing hardly any Portuguese. She taught for four years at Escola Americana de Campinas and also worked in the main office of City of Youth, an organization that provides at-risk youth with a stable environment and education.
Now, Toomey speaks fluent Portuguese and credits her creative ways of jumping into the language. She combined the learning experience with her favorite hobbies: capoeira and horseback riding. "You learn [the language] fast when there are horses and you have to get out of the way," Toomey joked.
After her experience in Brazil, Toomey was eager to return to journalism and decided to take her communication skills to the next level. She created her own master's degree at American University and expects to graduate in December 2009. Designing her own track has enabled Toomey to tailor coursework around her interests and to customize a master's degree with concentrations in international media and conflict resolution.
"You can really make the most of an opportunity and not just stay in the structure they lay out for you," Toomey said.
Toomey is currently working on her thesis about how participatory communication can empower youth in unstable contexts. She is drawing from her experiences in San Jose and Brazil as well as a recent internship with Search for Common Ground in Washington, D.C.
While in Brazil, Toomey applied for a fellowship with the communications department at the American Association of University Women (AAUW), but was unable to take the position since she decided to teach longer in Brazil. Now that she has returned to the U.S., she is working in AAUW's fellowship and grants department. In this capacity, Toomey has the opportunity to contact women who have had fellowships in the past and write stories on where they are today. "I've met some amazing women," Toomey said. One woman Toomey interviewed suggested she work with the UN. "Her belief in me helped me think maybe that's an option. Their words have been so inspiring."
Anticipating her December 2009 graduation, Toomey is actively searching for a job abroad in education and the media. She is particularly interested in Latin America and sub-Saharan Africa. Evaluating her past experiences and anticipating the future, Toomey is grateful for the resources and opportunities available to her. She acknowledges her Career Center advisor, Minna Morse, in particular.
"Minna's been amazing," Toomey said. "She's helped me take this crazy all-over-the-place dream and make it into some action points. [The Career Center] helps me reach higher than I think I would."