Student Success Story
Intern Helps Women in Need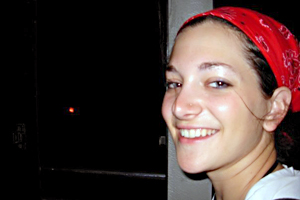 Sam Kramer '09 knew she wanted to help women in trouble. She just didn't know where to begin.
Helping Individual Prostitutes Survive (HIPS), a community organizing assisting sex workers in Washington D.C., reinforced her desire to create changes at the policy level. The College of Arts and Sciences student served as a volunteer assistant to HIPS Client Advocate, and learned first-hand tales of life on street.
Her clients did not immediately welcome her with open arms. Like a therapist, Kramer needed to develop a relationship with her clients before they could truly open up to her. Sam was able to gain the trust of those she helped after holding conversations with them. By the end of the semester, Kramer truly understood the maxim, "You can't judge a book by its cover".

After her internship, Kramer's continued to work with HIPS, helping to develop programs and legislation to reduce penalties for sex workers.
Now she doesn't just view herself as just a former volunteer or intern, but as a lifelong advocate that looks forward to helping those in need.