Alumni
AU Students Lay the Groundwork for Media and Marketing Careers in NYC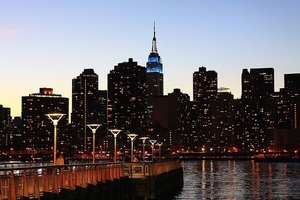 For Kogod MBA student Benae Mosby, the 2016 NYC Site Visit was her first trip of the new year to New York City, but definitely not her last.
The annual January trip, co-sponsored by the School of Communication (SOC), Office of Development and Alumni Relations, Kogod Center for Career Development, and the AU Career Center, connects current students with alumni at media and marketing companies for career exploration, networking, and informal mentoring.
Mosby is enthusiastic about the contacts she made during site visits and receptions."The trip [was] great networking practice," she says. "The more you talk to alumni, the more you realize [they're] actually interested in what you bring to the table." Her follow-up visit to the city? Informational interviews with alumni at Nickolodeon.
Since the launch of the NYC Site Visit in 2003, hundreds of American University students (sophomores through graduate students) have taken advantage of the opportunity to visit high-profile sites like FOXNews, Nickelodeon, Ketchum, Inc., ABC, AMC Networks, United Entertainment Group, MWW Group and more, and to network with alumni in the New York City region.
Alumni site hosts also benefit from meeting current AU students and seeing what they have to offer. Bill Reihl (SOC/BA '94), partner and managing director at Ketchum, Inc., praised the students' tenacity. "They asked smart questions and really pressed to get practical advice on networking and how to show their smarts in the interview."
"It's exciting to see the students' thirst for knowledge and experience," says David F. Caruso (KSB/BS '97), chief operating officer at United Entertainment Group. "There's no doubt these interactions … will serve them well in the future."
Alum Jason Gold (SOC/BA '05), vice president of production at AMC, agreed that the trip would prove invaluable to students. "I'm often asked how to gain entry into the entertainment business, and my answer is always the same: start small. Internships and site visits like this one are a great way to lay the groundwork for your career."
For many students, the trip stoked or sparked their fire for careers in the city and in the fields of media and marketing. Emilie Ikeda, a broadcast journalism major in SOC,plans to pursue a journalism career. "I [can] see myself living and working in the city. It was so memorable to be on the set of shows like Good Morning America and tour these amazing buildings. I would definitely encourage more AU students to take advantage of this opportunity."
Students hoping to attend the 2017 New York City Site Visit Trip will be able to submit applications beginning October 26 at 9:00 a.m.