Alumni Success Story
More Than Just Luck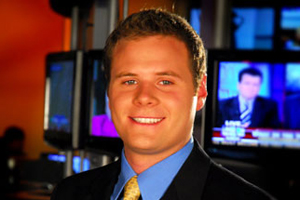 They say on live TV anything can happen. As a reporter for CBS affiliate WBOC in Salisbury, Maryland, Steve Dorsey, SOC '08, knows that adage from personal experience. Recently, while out reporting a story, his equipment malfunctioned at the key moment the crew planned to film.
"The live truck transmitter just died," Dorsey said. "You saw me reporting and then… just static."
And as Dorsey's career path proves, just as on live TV, when it comes to a career, anything can happen. Dorsey graduated from the School of Communication in December 2008 with a bachelor's degree in broadcast journalism and a Spanish minor. His goal was to land a full-time job before graduation.
When asked what got him where he is today, Dorsey instantly responded, "Luck. Luck. Luck and timing."
And while his story wouldn't be possible without a lot of luck along the way, it's clear that luck wasn't all it took. While still finishing classes and preparing for graduation, Dorsey applied to more than 60 television stations.
"I sent out 10 tapes a week for six weeks," he said.
Enter Lady Luck. The executive producer at a news station where Dorsey had interned in high school was now working as an executive producer at WBOC, one of the affiliates where Dorsey had applied.
"[Advisors] always told me to use my contacts," Dorsey said. So he did, and he landed an interview.
But the toughest part was yet to come. "The interview was by far the most challenging I've ever had in my life," Dorsey said. After driving three and a half hours to the Salisbury station, he immediately went into a meeting to pitch story ideas and then interviewed with network leadership, including the station's executive producer. After a tour of the studio, Dorsey completed a lengthy writing test and tackled his final challenge—head into town and return with three stories.
"I'm not sure if they did all this to me just to get stories for the day," he joked.
But in the end, Dorsey got the job and achieved his goal of graduating as an employed man. He now covers the Ocean City beat for the Salisbury-based station. One favorite experience was reporting live from a NASA launch facility on the eastern shore of Virginia.
It's undeniable that Dorsey's talent and determination helped get him where he is today. But he also made use of the Career Center's ample resources. Dorsey went through a mock interview with his career advisors to prepare for the working world. And thanks to the Career Center's guidance, as Dorsey put it, "One internship seemed to lead to another." Throughout his college career, Dorsey worked in a number of impressive positions, including internships at USAToday.com, "Late Edition with Wolf Blitzer," and "World News with Charlie Gibson."
In the future, Dorsey hopes to work for an affiliate news service collecting footage across the country that can then be used by local affiliates. But for now, he said, he is challenged by his current position.
"We try to do everything the big guys do but with less resources," Dorsey said. "You'll hear this from every reporter at this station… this is one of the most challenging things [we've] ever done."