Alumni Success Story
How One Alum Turned a Social Spotlight on "The Invisible War"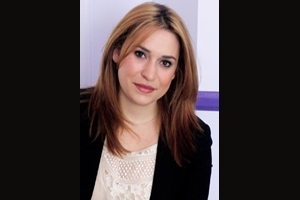 When Megan Ackerman (SOC/BA '11), graduated from American University, she left knowing that working for something she believed in was essential.  Her job as Digital Media Strategist at FitzGibbon Media allowed her to bring national attention to the documentary The Invisible War and the issue of sexual assault in the military.  By playing a key role in building the film's impressively high profile for a documentary, she likely played a role in helping it receive an Oscar nomination. Ackerman was happy to have been able to work on the campaign – it's a cause she supports, and it is the kind of film she aspires to make one day – hard hitting and eye opening.
SOC Sat down with Ackerman to talk about her work with the film.
SOC: What does a digital media strategist do? What was your role in the The Invisible War project?
Ackerman: As a digital media strategist for [FitzGibbon Media], I was creating social media strategy plans for our clients and their campaigns. This involved posting articles on Facebook, tweeting relevant information and more. The Invisible War was also on Instagram, so I was taking pictures of survivors and supporters and posting them.
SOC: How did you get involved with FitzGibbon Media and the film?
Ackerman: The movie came before the company, and it all goes back to American. At AU, I met one of my best friends, Rachel. She ended up hired by FitzGibbon. The company got involved with the film, and they were looking for somebody with social media skills. Rachel knew I had them as well as a background in entertainment, and recommended me. I was then hired to work for the company.
SOC: Did you think that this documentary would be Oscar-worthy?
Ackerman: When I first saw it, I knew it needed to be nominated. I was hesitant to think it would happen because it's a heavy subject. While it's disappointing that it didn't win, the nomination gave a lot of attention to the issue that it wouldn't have otherwise gotten. It was a huge accomplishment.
SOC: What was your previous knowledge of sexual assault in the military?
Ackerman: I had a hint of the problem of military sexual assault, but I didn't realize how big it was. I didn't realize the cover-up involved, nor that men were raped as well. I personally have no attachment to military, but I know people who do.
SOC: Why is it important to expose this problem and what impact did the film have?
Ackerman: Regardless of your opinions, I feel like you should always support your fellow Americans. You have volunteers devoting their lives to fighting for our country, but these are also people that are being raped. It's deemed an occupational hazard by the Military's judicial system, and it's awful. You need to get the message out to civilians. They can stand up and say something. Congressmen need to be held accountable for making change happen.
Now there are so many members of Congress speaking out. More survivors than ever are coming out and talking about it – to their families, friends and news media. I had people contact me and say they were bringing family with them to see film because they didn't know how else to tell relatives.