Alumni Success Story
A Profile in Compatibility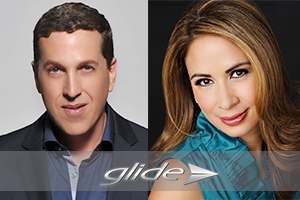 You have a document on your iPad you need to edit on your Android phone. Or a video on your flash drive you need to send to someone else's PC. Or a music file over here that absolutely has to be over there.
Welcome to Tech World. And consider the story of two American University grads who continue to bring some much-needed order to this digital jungle while inspiring other young entrepreneurs.
For Donald and Claire Hykes Leka, their four AU degrees—two apiece—are a source of pride. You could also say they're a source of Glide.
Glide: TransMedia's computer operating system that seeks to tame the multi-platform, multi-format world of file sharing—moving documents, pictures, videos and music seamlessly across technical borders. And Glide: the subject of a new book the Lekas have co-written to recount the birth and growth and increasing impact of an entrepreneurial techie's vision, rendered with a storyteller's eye for detail.
Say the word "Glide" and you think "smooth." You think "hassle-free." However, that wasn't the state of tech world when Donald Leka first started looking at it as an AU grad and Kogod-trained MBA in the late 1990s.
It was quite a different time.
"There was no Dropbox, no SkyDrive, no Google Drive," Donald Leka recalls. "Ninety-five percent of people had their files on a PC. There was a lot less to connect."
And now, when seemingly everyone has an assortment of devices and when gigabytes of data reside instantly available in "the cloud"—how does all the data and information move around? And how can you deal with it when it gets where it's going?
Glide OS is how. When "everything is everywhere," in Donald's words, Glide lets "everywhere" talk to, send to, and receive from "everywhere else." Donald refers to it as "cross-platform compatibility."
You might apply that same phrase to the Lekas.
---
Donald, the founder, chairman, and CEO of TransMedia Corporation, had a wide-ranging curiosity and interest in technology from a young age. He recalls learning about the world by watching Walter Cronkite.
Claire meanwhile was several years younger; her own inspiration came from watching Cronkite's successor, Dan Rather.
That's what "planted the seeds," she recalls—the first stirrings of a journalist's career. When the time came to apply to college, she visited AU and "fell in love with it." The size of the place—"not too big"—was an attraction. So were the School of Communication's well-known, well-respected programs in communication and journalism. She could hardly have picked a more eventful time to learn her craft at SOC.
"A lot of major world events were happening my sophomore year at AU, in 1989— including the fall of the Berlin Wall and the Tiananmen Square massacre. Those events really influenced me and inspired me to seek the truth and report it."
There was experience to be gained closer to home, too.
"Since AU is based in the 'Journalism Capital of the World,'" she recalls, "I was able to attend Capitol Hill hearings, Supreme Court arguments, events at The National Press Club…"
She graduated with a major in communication, but soon returned to SOC for a Master's in broadcast journalism. Her first job was as a part-timer in Hagerstown, Md., covering Rotary Club meetings and house fires. Other jobs soon followed—as a business reporter, business anchor, and correspondent—for Reuters and CNN, NBC News, and CBS News—covering everything from the stock market crash and the Great Recession to the Virginia Tech massacre to the 2012 presidential race. In that time Claire has remained an active member of the SOC Alumni Mentoring Program, building on the impact of her SOC degrees.
Donald's AU degree, in international relations, also had an impact—as did his Albanian roots. Albania was, in 1990, just emerging from decades as a closed society when Donald was invited by the Ministry of Health to help supply the beleaguered nation with Hepatitis B vaccine, and then a computer and phone system for the ministry. These were among the first commercial transactions between the two long-estranged countries. With the end of the Cold War, Donald co-founded a foundation, funded in part by George Soros and by the U.S. Agency for International Development, to bring additional technical assistance to Albania and other Eastern European nations.
Meanwhile, his appetite for all things tech was growing. And, he says, he "really started to understand format and bit rate issues…really started to understand issues of compatibility." In this still largely dialup world, getting information from one device to another was "a real headache."
Donald thought, "If we could build an engine that could just do it…"
---
Now, more than a decade and several updates later Glide has garnered more than 3,000,000 users around the world.
The timing is right for a big step forward, Donald believes—so many different kinds of files, so many different kinds of devices. Most people, he says "don't care" which platforms they're on at any given time. They simply want them to work together.
"We're at a real 'pain point' for most users. Before, we were solving a mostly theoretical problem. Now, it solves a real 'pain point' for most people. It's the difference between 'This is interesting' and 'I need this!'"
And with public concern increasing over the secret collection of personal data—by the government, or even by online companies—Donald sees people wanting greater control of their own data, all their own data, with "one login, one search box, one system to manage all your devices and services." He thinks Glide is positioned just far enough ahead of the demand curve, and ready to ride the wave.
If he's right, Claire will have had a key role, too. She signed on with TransMedia in 2010 to guide the company's public-relations efforts and its expanding presence on social media. And the couple has collaborated on a book, Cloud Computing: The Glide OS Story, targeted to other young entrepreneurs, and to anyone interested in cross-platform and cloud computing.
Teaming two strong-willed people on a complicated writing project took work, they both concede: some deep breathing, some counting from one to 10—even, says Claire, that old kindergarten standby, "Take your turn." Donald sees the contrasting styles—he the techie, she the humanizer, the storyteller—as a definite plus: "There's good resistance there."
Or, you could say, compatibility.