Marketing &  Communications


Helen Dodson
,
Director of Communications & Outreach
Helen came to AU after several years as a press officer for science and medicine at Yale University. Her earlier career was in broadcast journalism, as a producer and writer for NBC News and CBS-local in New York. She is a native New Yorker, but pre... [More]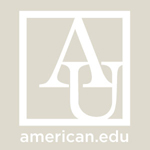 Patty Housman
,
Writer/Editor
Thomas Meal
,
College Webmaster
After working at NYC webshops Softcom and Interactive Video Technologies and teaching design, writing, and criticism at Rutgers, Thomas stumbled into a moment of good judgment, following the love of his life to DC and joining AU.
Emily Schmidt
,
CAS Marketing and Communications Manager
Emily began working for the College of Arts and Sciences in September 2008. Previous to working at AU, Emily was the Director of Press and Marketing at Dance Place and held House Management positions at Arena Stage and Imagination Stage.