The application process includes three steps:
Create an Account and Submit Online Application Form.
Pay Application Fee (or use the promo code for a fee waiver if applicable).
Submit Supplemental Documents (e.g., statement of purpose, transcripts, test scores).
1. Create an account and submit online application form
Once your account has been established with the Create an Account form, your online application can be started at www.american.edu/casgradapp/. Please fill out all sections of the form. After the the form is submitted, your application will be considered "active" in our system.

Please remember:

Current AU students and those in select categories should use the special population section of the application. A fee waiver code will appear after you make your selection. Save this code for the fee payment section.
In order to upload unofficial transcripts, you must fill out the "institutions attended" section: you will then have the option to upload transcripts after you have submitted the application.
Recommendation letters can be uploaded only after the application has been submitted and the application fee is paid.

2. Pay Application Fee
Once you have submitted your application, you will immediately be directed to the payment screen. The application fee is $55, payable by credit or debit.

If you have a fee waiver code, type it into the promo code field. Please note that refunds are not retroactive. 
3. Submit Documents
All applications require the following: 
Statement of purpose
Resume
Unofficial transcripts
The number of recommendation letters, writing samples, and test scores are contingent upon the degree program you apply to. International applicants may need TOEFL or IELTS. Please check the Requirements Chart for more information.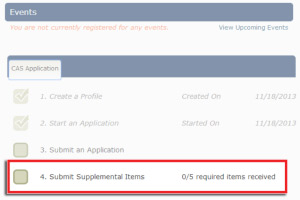 After paying the application fee, upload your documents by returning to your main profile page and scrolling down: there will be areas for uploading your statement of purpose, resume, writing sample, and any transcripts listed in the "institutions attended" section.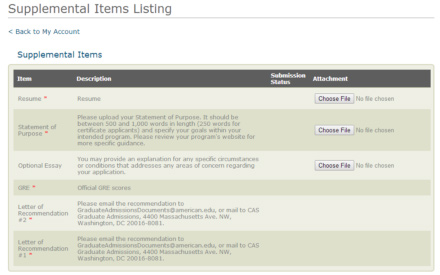 Transcripts: All transcripts uploaded by the applicant are considered unofficial. The departments will use these to review files. Official transcripts must arrive by mail in a sealed envelope. Official transcripts are required if you are admitted and enroll at American University. Mailing addresses are listed below.


Test Scores: GRE, TOEFFL, and Praxis scores, if required, must be sent through ETS using school code 8439 or 5007. Test scores can take up to six weeks to arrive after the test date.


Letters of Recommendation: Recommendation letters can be uploaded only after the application has been submitted and the fee paid. There is an option to assign recommenders at the top of the Submit Supplemental Items section. For each recommendation, click "Start" and fill out the necessary fields. An email will be sent to your recommender with instructions on submitting the letter.

Email and Mailing Addresses for Documents:
Email for supporting documents: GraduateAdmissionsDocuments@american.edu
(Please note: do not send questions to this email address; see contact information above left for inquiries).
Postal mail address:
CAS Graduate Admissions
Office of Enrollment
4400 Massachusetts Avenue, NW
Washington, DC 20016-8081
Express, Courier, Overnight (Express Mail, Fed Ex, UPS, DHL, etc.):
CAS Graduate Admissions
Office of Enrollment
Suite B1
3201 New Mexico Avenue, NW
Washington, DC 20016-8081
USA
Minimum Requirements for Admission:
Minimum requirements include the following:

A bachelor's degree (or its equivalent) earned at an accredited college or university.
A 3.0 (on a 4.0 scale) or better cumulative grade point average (GPA) calculated on the last 60 credit hours of course work completed in your undergraduate program and available at the time of application for admission.
A 3.0 (on a 4.0 scale) or better GPA in all relevant graduate work for which a grade has been awarded.
GRE Exam scores for all programs except the MFA in creative writing, MFA in studio art, the MA in audio technology, and the certificate programs.
Praxis I Exam scores for all certificate programs in teaching.
For international students whose native language is not English and who do not possess an undergraduate or graduate degree from an accredited U.S. institution: applicants need TOEFL test scores of at least 600 (or 100 on the internet based test), a Pearson Test of English score of at least 68, or a minimum IELTS score of 7.
An applicant for graduate study may be admitted without reference to the undergraduate average provided that he or she has maintained either a 3.3 cumulative grade point average in a master's degree program completed at an accredited institution; or has maintained a 3.5 cumulative grade point average in the last 12 credit hours which are part of a master's or doctoral degree program still in progress at the time he or she applies; or in graduate work taken in nondegree status at American University and applicable to the degree program for which he or she is applying.