Contact Info & Hours
Office: Battelle-Tompkins 164
CASPeerAdvisors@american.edu
Ph: 202-885-3092
Hrs: Vary each semester; available on a walk-in and appointment basis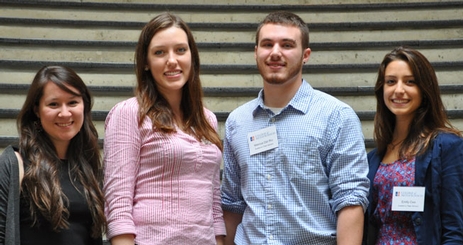 WHO ARE THE PEER ADVISORS AND WHAT DO THEY DO?
The College of Arts and Sciences (CAS) peer advisors are continuing CAS undergraduates who work primarily with first and second year undecided students. They are chosen from a select group of students and complete a rigorous interview and training process. Peer advisors help students pick classes and majors that suit their interests, provide information on academic policies and procedures, and make appropriate referrals to campus resources. They also provide advising based on their experiences as students at AU. Peer advisors hold walk-in and appointment hours.
In addition to their advising duties, peer advisors publish a monthly academic newsletter, hold various on campus advising events, and assist in registration workshops. In the advising office, CAS peer advisors serve as an additional unit of academic support for all CAS undergraduates in the Academic Advising Office.

Why See a Peer Advisor?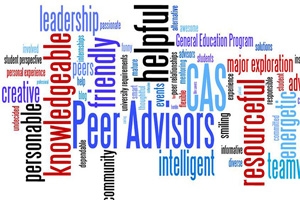 Peer advisors can provide academic information from their own student perspective. They advise students on the "real deal" when it comes to choosing classes, picking a major, and utilizing campus resources. They share the lessons they have learned as AU students. Because peers are highly trained on advising material, they are a valuable academic resource.
According to Koring, Campbell, et al,* peer advisors serve six purposes:
Help new students transition to the university
Help advisee master basic academic processes
Teach and reinforce student skills for success (i.e. time management, study skills, etc)
Act as referral source
Offer a different but complementary point of view from staff or faculty advisors' perspectives
Are role models for successful students
Common Questions to ask a Peer Advisor
What classes should I take next semester?
How many general education courses do I still need to take?
I need help choosing a major. What are some helpful resources?
Am I taking the correct courses for a first year student?
I need help registering. How can I be cleared to register?
What courses should an undecided student take?
Generally, peer advisors can assist most students with questions about course registration, pre-registration clearance, general education courses, waitlist procedures, choosing a major, and campus resources.
Blog and Social Media

Stay connected with the peer advisors though Peer to Peer, the CAS peer advising blog that is updated frequently with academic information, issues, and events happening around the College of Arts and Sciences. To submit questions or topics to be covered in the blog, please email CASPeerAdvisors@american.edu.
Students can also get information about the latest academics updates and news by following the CAS peer advisors on Facebook and Twitter.

For previous peer advisor activities, please visit the newsletter and podcast archive.
*H. Koring and S. Campbell, Peer Advising: Intentional Connections to Support Student Learning, The National Advising Association, 2005.

Connect with the Peer Advisors

Peer Advisors on Facebook

Peer Advisors on Twitter

Peer Advisor Blog
Welcome 2014-15 Peer Advising Team
Grace Cassidy, Literature & WGSS, 2016
Joanna Dressel, Sociology, 2015
Fatima Kamara, Psychology, 2015
Brandon Klugman, Public Health, 2016
Program Coordinator: Alicia Mandac, Senior Academic Counselor
Program Assistant: Elaina Hundley

Peer Advisor Alumni
See where Peer Advisor alumni are now and how the peer advisor role has impacted their life after college.