In the Community
American Studies Students Tour U Street
Students in professor Nikki Lane's class Black Popular Culture in DC visited Ben's Chili Bowl on U Street on September 16. The class studies the ways in which black history and culture shapes and creates what we see today in our own communities. They visited Ben's Chili Bowl, an iconic restaurant opened in 1958, for a history lecture, a tour, and some good food.
Bernard Demczuk spoke with students in the large room in the back of the establishment. Demczuk is a historian of African-American history at George Washington University, and also the resident historian at Ben's. As students chowed down on their half-smokes, chili fries, and burgers, Demczuk provided constructive criticism. As author of Bernie's Dog Bite Method To Properly Eat a Ben's Chili Bowl Classic Chilidog (With Helpful Illustrations), Demczuk is trained to instruct people on the correct way to eat the chilidog, a five-step process.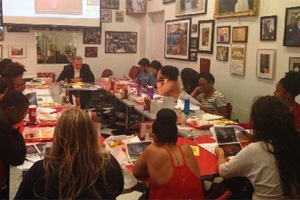 Students prepared for the class by reading up on the history of Ben's and on-site participated in a brief lecture about Black history. They created a timeline spanning from today back to 1607, when the first 20 slaves were brought to Jamestown, Virginia. They also explored how plantations once covered much of the area that is DC today.
Demczuk believes that students should learn from what he calls the six senses, however—touch, taste, hearing, sight, smell, and also spirituality, or experience. After his presentation, students left Ben's and walked around the Shaw area for a few blocks, attempting to get at the feeling behind what they had just learned, and to connect their academic studies to the real world.
Students followed part of the Greater U Street Heritage Trail, stopping at a few place markers along the street. Demczuk provided context and often amusing stories to accompany the facts. The tour ended at the African American Civil War Memorial, where Demczuk encouraged students to ponder the meaning of the 209,145 names etched into granite and the large statue nearby, The Spirit of Freedom.
With their six senses satisfied students returned to campus, better equipped to discuss class themes for the future. For some it was their first time at Ben's, and all expressed that they want to return, next time with an appreciation for the restaurant and what it means to its community.