Master's Degree in
Public Anthropology
Public anthropology students work to understand lived experiences. They explore culture, power, and history in everyday life while sharpening their skills in critical inquiry, problem solving, and public communication. The MA in public anthropology prepares students for careers in public service, community organizing, and social advocacy.
If you have a desire to pursue justice and inspire change, the public anthropology graduate program at American is for you. Apply today or learn more below.
In the Classroom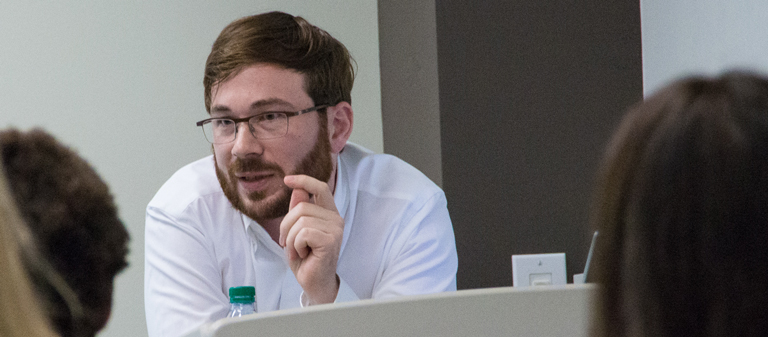 The public anthropology master's program (MAPA) offers program offers three different tracks: cultural/social anthropology, archaeology, and international/Peace Corps. Within each track you can gain expertise in biological and linguistic anthropology as well. No matter which option you choose, you'll have the opportunity to combine classroom and experiential learning as they relate to your career plans and goals.
Our faculty specialize in issues of race, gender, and social justice in all areas of anthropological research. Previously, AU students have worked on projects in areas including:
Women's and minority health
Educational equity
Refugee resettlement
Human rights
Environmental justice
Cultual resource management
You'll work closely with public anthropology faculty to select a project that moves you and creates change in your chosen area.

100% of student applicants accepted into Peace Corps programs
In the Community
American balances class time with the many experiential learning opportunities available to students in the city. Washington, DC, offers unlimited resources for practical learning, research, internships, and employment opportunities. Many students find jobs and internships at museums or government and private agencies in the area.
Our students distinguish themselves through their service, leadership, and ability to rethink global and domestic challenges. In DC, there are plenty of ways for you to get involved and make a difference in the world around you.
FAQ
Hundreds of internships are available for students in the DC metro area. In the past, our students have interned for many prominent organizations including the:
Smithsonian Institution
National Park Service National
Center for Environmental Research
Institute for Women's Policy Research
US Committee for Refugees and Immigrants
Center for American Progress
Graduates of the MA in public anthropology program at AU work for a variety of companies and organizations around the world:
Maryland National Park and Planning
US Department of State
Business and Professional Women's (BPW) Foundation
State University of New York–Potsdam
AIDS and International Development Project
No. It's one of three tracks within the MA in public anthropology. Except where specifically noted, the degree requirements are the same for students in all tracks.