Research
Koenig Discusses the Downside of Urban Development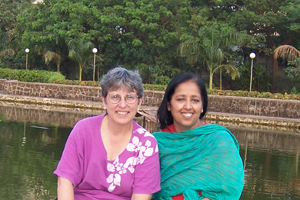 Dolores Koenig, professor of anthropology, spends her days studying what happens to the world's poorest people as developing nations create infrastructure in urban areas—oftentimes displacing thousands of people.
"Developing country cities are growing very quickly," says Koenig, "they're trying to develop themselves by putting in things like roads and metro systems and doing slum renovation." Koenig says that when cities decide to create infrastructure in certain places, they must remove large groups of people from those areas. Even if those who are displaced are eventually allowed to move back in, they may not be able to pay the new, higher upkeep costs.
Koenig emphasizes that government officials who handle rural resettlement don't fully understand how urban resettlement is different. "A lot of what is known about rural resettlement puts a real accent on reconstituting people's resources when they move," says Koenig. "If you're a farmer and you lose your land, the idea is that you get a similar amount of land to cultivate in the future."
But Koenig says this form of resettlement doesn't apply to urban areas. "People [in urban areas] don't exploit resources directly. They have jobs." Urban residents who work in the informal sector have a hard time documenting how much income they're losing in a way the government will accept. "The whole issue of how you treat this income and livelihood disappears from urban projects," says Koenig. "[Finding a job] is an important problem that people have to deal with once they move. Even if they're in the same city, they can't always keep the same kind of income-earning strategies."
In 2008, Koenig was given an AU Presidential Fellowship while on sabbatical allowing her to study in West Africa and India, including the major urban areas of Mumbai and Delhi. "One of my understandings, as an anthropologist, is that governments don't often think in terms of the poorest people and what they need." In Mumbai, Koenig studied various urban groups' resistance to the creation of a subway system as well as corrupt construction processes. "They're using the media, they're doing massive protests, sit-in demonstrations," says Koenig. "They're following in the non-violent tradition of [Mahatma] Gandhi."
Koenig began working on issues of development-related displacement in the 1970s. She was hired by the Agricultural Economics program at Purdue University to work with agricultural economists on issues created by a drought in Mali and much of West Africa. "The anthropologists were willing to go out and live in more rudimentary places, in villages and small towns and work directly with people, [whereas] agricultural economists were more put in research stations." Koenig soon fell in love with the country and has continued to work in Mali throughout her career. Koenig's first displacement-related project dealt with the involuntary resettlement of people who lived in the future reservoir area for a dam in Mali.
Koenig continues to work on behalf of those displaced by urban development, specifically in Mali and Francophone West Africa. "[Anthropology starts] from an understanding of folks on the bottom who are most affected…and their understandings of what they want," says Koenig, "which isn't always the way their own national governments look at things."