In the Community
Griffith Scholarship Honors Former Dean and Assists Students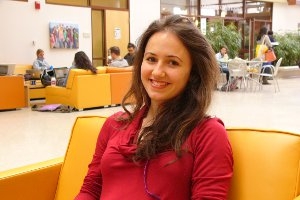 Many university scholarships are begun by alumni donors. One special SIS scholarship, however, The Ernest S. and Margaret D. Griffith Scholarship, was started by the very people it was meant to benefit. The SIS student council established the scholarship to honor Dean Griffith, the founding dean of SIS, on his 100th birthday.

"It was decided that SIS would give a celebration and invite the SIS alumni to participate and make contributions in my father's honor," said Lawrence Griffith, M.D., Dean Griffith's son. "SIS students and alumni raised over $125,000 in that one event. That was the start, and the initial funding that came from that big reception."

However, the family asked if SIS could make one small change.

"My family and I were interested in honoring both of our parents," said Griffith. "Around that same time, I was back in touch with Dean Emeritus Louis Goodman, and asked if they would be willing to expand the name to include my mother. In those days, my mother really was a very large part of how things got started at SIS, and the dinners and things that she hosted for faculty wives. She was into it up to her eyeballs, in terms of wanting to do things."

Griffith was always interested in the lives of students. "He loved students. He came to Washington in 1932 from Syracuse University to be dean of graduate studies, and he and my mother started attending Metropolitan Memorial United Methodist Church, right across the street. He had a Sunday School class of high school students for 16 years. He had a basketball league organized for them. For SIS orientation, he thought that a hike up Old Rag Mountain in Shenandoah National Park was a good way to have new students come together."

Sara Kokkelenberg, SIS/CAS/BA '13, is in her third year of Griffith funding, a renewable prize awarded annually to support freshmen who best exemplify the School of International Service's commitment to public service and exhibit academic excellence.

"I was able to stay here in many ways because of the Griffith Scholarship," she said. "I was happy about that, since I've had a great experience."

Kokkelenberg demonstrates the commitment to community service described by the wording of the fund. As a high-school student, she visited the Dominican Republic twice to work with Orphanage Outreach, co-led her high school chapter of Amnesty International and visited a Native American reservation in South Dakota to build bunk beds. As an AU freshman, Kokkelenberg participated in the Freshman Service Experience, spending two days cleaning Rock Creek Park.

Brandy Pech, SIS/BA '15, a junior studying abroad in London and pursuing her BA/MA dual degree in International Peace and Conflict Resolution, has received the Griffith Scholarship for four semesters. Pech has been self-sufficient since age 16, and has accumulated extensive student loans to pay for her AU tuition.

"The Griffith will be one of several grants which will reduce that large overall sum," Pech said.

Griffith felt strongly about creating scholarships, said his son, and Pech hopes to make a similar impact on SIS students.

"AU and SIS are very dear to me," Pech said. "They have shaped who I am. There is no doubt in my mind that one day I will also set up a scholarship fund that will enable students with special circumstances, who normally fall through the cracks, to receive funds that will allow them to live their dreams, just like me."