Campus News
AU Human Rights Council Hosts First Human Rights Week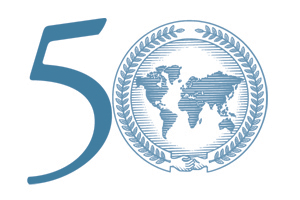 The AU Human Rights Council hosted its first annual Human Rights Week from October 14-17 and brought a host of distinguished speakers to campus from the field of human rights. Several events were held throughout the week on topics related to the role of the UN Security Council, U.S. Foreign Policy, and applying Human Rights in the U.S.
On Wednesday, October 15, an event entitled "The Security Council and Human Rights" included presentations by 2 speakers and an interactive question and answer session over a free lunch in Butler Board Room.
Dr. Joanna Weschler, the Human Rights Watch representative to the Security Council and Research Director for the Security Council Report, and Ellen Dorsey, the Director of Just Earth! at Amnesty International and an adjunct professor at Carnegie Mellon University outlined the breakthorughs and challenges of human rights in recent years. Dr. Weschler discussed the history of the UN Security Council and how, at least initially, human rights did not appear to be part of its jurisdiction. The Special Rapporteur from UN Commission was the impetus for Security Council work in international human rights. Dorsey named two key tensions in the human rights field: 1) "the tension between collective security, sovereignty, and human rights, and 2) "the tension between human rights and development." The speakers answered a range of questions from the audience that addressed topics as diverse as reforming the UN Security Council, indigenous rights, and cultural relativism. There was a large student turnout at this event, and Human Rights Week was enthusiastically received by the campus community.
Human Rights Week was sponsored by the AU Human Rights Council and the Office of the University Chaplain. The recently established AU Human Rights Council was initiated by SIS Professor Julie Mertus. Tazreena Sajjad, a PhD candidate in SIS, is the Program Director. Professor Mertus worked to establish the Human Rights Council "to promote synergy in human rights programming", and to advance five distinct goals:
*To be a campus information clearinghouse for human rights events and internships;
*To fund a small grant program for human rights projects;
*To create a human rights research and teaching tool through the website;
*To be a source of cutting-edge human rights scholarship from human rights practitioners;
*To establish events focused on human rights.
Human Rights Week is only the first of many events to be sponsored by the Human Rights Council.