Department Spotlight
Conference Grows into International Prominence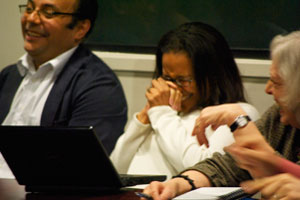 The anthropology department hosts the 18th Annual Lavender Languages and Linguistics Conference on February 11-13 on campus.
It's a time for academics, public intellectuals, and community activists to get together for the Department of Anthropology's annual conference on language, gender, and sexuality. Diverse points of view are encouraged during this three-day conference. "Everyone works hard to keep this a non-attitude event," says William Leap, anthropology department chair and lead organizer of the conference. Leap explains how the conference has become an enduring university event, since its founding in 1993.
How has the conference evolved over the past 18 years?
When the first language-centered conference began, many scholars treated men's and women's languages as figures of stereotype, and academe gave little support to those of us who wanted to break up those stereotypes. The Lavender Language conference was the first academic site specifically designed to provide such support. The conference still serves that function. Some of those who attended as graduate students in 1993-1995 still participate but now they come with their students. The conference has become strongly international in basis, with participants from Europe, South and East Asia, Western and Southern Africa, Latin America, as well as Canada and US. This year, colleagues from Finland will participate by reading their paper via a Skype connection. And finally, while spoken and written communication still figures prominently in conference discussion of "lavender languages," so do sign language and forms of visual performance like film, theater, and dance, and so do musical texts, spatial practices, and even the politics of food production.
How has the conference changed the public landscape for queer linguists?
Lavender Languages has been deeply implicated in almost all of the key monographs and edited collections in LGBTQ linguistics that have been published in the US or other North Atlantic venues since 1995. And now a colleague in Germany and I are finalizing the plans for the first academic journal from a category-1 academic publisher that is dedicated entirely to language and sexuality studies; interest in this journal is also a reflection of conference initiatives. The international journal, The Journal of Language and Sexuality, has a five year financial commitment from John Benjamins Publishing Company. The first issue will be out in 2012. Most importantly, the conference bears witness to the legitimacy of LGBTQ language studies. This conference—and AU's support for it—shows people that studying queer language in its many forms is entirely okay, and that plenty of people at AU and on other campus are ready to support them when they start this work.
What is the conference's theme and how does this tie into keynote lectures and panel discussions?
Papers at this year's conference emphasize several themes: (1) masculinity, (2) sexuality, displacement and diaspora; (3) queer rhetoric in the classroom, (4) language and homophobia, (5) lavender language activism, and (6) queer vegan linguistics.We have keynote speakers as well as panels addressing points (1) and (2). Points 3, 4 and 5 have been addressed on the program in previous years and are now recurring topics of conference conversation. Point 6 is a new issue this year, but an exciting topic for us.
How are students involved?
This event could not run without the kindness of students. They handle housing reservations, develop the program, design the poster, staff the registration tables, manage the refreshments, and often make outstanding contributions to the scientific program—reading papers, showing their own films, leading workshops.
What makes this conference such an imperative event right now?
A people's language is always tied closely to their lived experience. And right now, the lived experiences of people are on shaky ground. Some of the most fundamental features of "birthright citizenship" are denied LGBTQ people simply on the basis of sexual orientation and presumed sexual practice. Lavender Languages provides a public space in which scholars and community members can jointly develop language-centered responses to these fundamental challenges to citizenship.
For more information about the conference or to register, please visit the Lavender Languages website or contact Professor William Leap at wlm@american.edu .