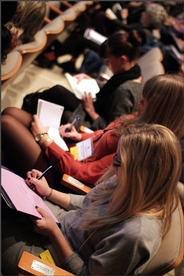 Thanks to everyone who contributed to the fourth annual Feminist Art History Conference. It was a resounding success! American University welcomed nearly two hundred participants from across the country and around the world to share views, debate issues, and network with colleagues. To our very engaged conference attendees, our fascinating keynote speaker, Patricia Simons, the many excellent scholars who presented informative papers, our very capable VRC student staff, and our helpful volunteers—it could not have happened without you.

Before the keynote lecture, which was presented on Friday evening, American University president Dr. Neil Kerwin addressed the conference attendees. Dr. Kerwin stressed the importance of feminist art history scholarship at American university, citing the significant contributions of both our active and emeritus faculty. He expressed enthusiastic support for this annual event, which is clearly meeting a need in the scholarly community.
Sixty-four papers were presented in sixteen sessions, and they covered a wide array of topics as suggested by a few paper titles: "The 'Wild Woman' and Female Monstrosity in Early Modern European Imagery,"  "Contemporary Australian Performance Art: The Feminist Legacy,"  "Latinas Under Construction: The body Modifications of Liz Cohen and Regina Jose Galindo," and "The Woman Genius and High Modernism: Virginia Woolf, Paula Modersohn-Becker, and To The Lighthouse."
Panels featured scholars from as far away as South Africa, Australia, Israel, Italy, Germany, Portugal, and Canada as well a number of independent and university scholars from U. S. institutions including California State University, Rutgers, Northwestern University, University of Michigan, Pennsylvania State University, University of Pennsylvania, The Ohio State University, American University among many others.
Thank you again for being a part of this ground-breaking annual conference.
— The 2013 FAHC-4 Planning Committee
2013 Conference
November 8-10, 2013
Katzen Arts Center
American University
Washington, DC
2013 Program 
 

ORGANIZING COMMITTEE
Kathe Albrecht
Juliet Bellow
Norma Broude
Kim Butler
Mary D. Garrard
Helen Langa
Andrea Pearson
Sponsored by the Art History Program, Department of Art, and College of Arts and Sciences at American University
2013 Conference Highlights


KEYNOTE ADDRESS

Patricia Simons, Professor in the History of Art and Women's Studies,
University of Michigan:

"Devotion and Desire: Women Viewers and the Case of the 'Lesbian Nun' in Early Seventeenth-Century Italy"

See more about Professor Simons.




FRIDAY

Friday afternoon conference registration and program sessions
Friday evening: Opening Conference Reception and Keynote Address in the Katzen Arts Center




SATURDAY

Conference registration and conference sessions (morning and afternoon) at American University
Conference Luncheon in the University Museum, Katzen Arts Center
Saturday Evening: Reception 



SUNDAY