2013 Conference Highlights

KEYNOTE ADDRESS

Patricia Simons, Professor in the History of Art and Women's Studies, University of Michigan, presents:
"Devotion and Desire: Women Viewers and the Case of the 'Lesbian Nun' in Early Seventeenth-Century Italy"

See more about Professor Simons.




FRIDAY

Friday afternoon conference registration and program sessions
Friday evening: Opening Conference Reception and Keynote Address in the Katzen Arts Center




SATURDAY

Conference registration and conference sessions (morning and afternoon) will be held at American University
Conference Luncheon in the University Museum, Katzen Arts Center
Saturday Evening: Reception 



SUNDAY
About the Feminist Art History Conference
In 2009, the Art History program faculty and staff began organizing an annual Feminist Art History Conference that takes place in November and brings scholars and grad students who are interested in feminism, gender studies, and art history to our campus from across the U.S. and internationally. For the Fourth Annual Conference, which will take place in early November 2013, we received 143 paper proposals, and from these we created a program with 68 speakers in 16 sessions.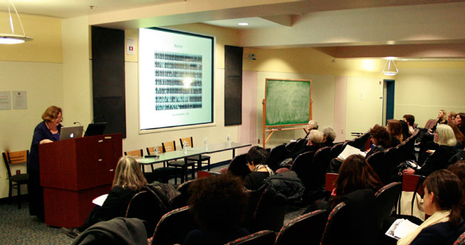 2013 Conference
November 8-10, 2013
Katzen Arts Center
American University
Washington, DC
2013 Program
 

REGISTRATION
Advance online registration is now closed.  On-site registration will be available at the conference for $55 (individual) and $30 (student)
Registration covers all sessions, keynote, receptions, Saturday lunch, and NMWA Faith Ringgold events.
 

ORGANIZING COMMITTEE
Kathe Albrecht
Juliet Bellow
Norma Broude
Kim Butler
Mary D. Garrard
Helen Langa
Andrea Pearson
Sponsored by the Art History Program, Department of Art, and College of Arts and Sciences at American University