2013 Conference Highlights

KEYNOTE ADDRESS

The keynote address will be given by renowned scholar Patricia Simons, Professor in the History of Art and Women's Studies, University of Michigan. 

Professor Simons's most recent book is The Sex of Men in Premodern Europe: A Cultural History (Cambridge UP).

See more about Professor Simons.




FRIDAY

Friday afternoon conference registration and program sessions
Friday evening: Opening Conference Reception and Keynote Address in the Katzen Arts Center




SATURDAY

Conference registration and conference sessions (morning and afternoon) will be held at American University
Conference Luncheon in the University Museum, Katzen Arts Center
Saturday Evening: Reception 



SUNDAY
Call for Papers
Please note the 2013 conference call for papers period has concluded.
Accepted proposals will be notified by July 1, 2013.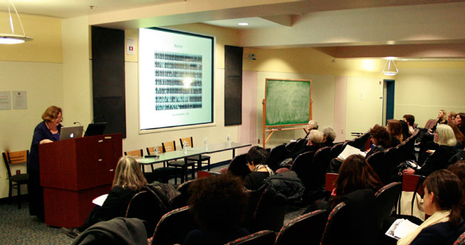 WHEN/WHERE
November 8-10, 2013
Katzen Arts Center
American University
Washington, DC
 

REGISTRATION
Opens in September.
Registration fee ($45, students $25) includes all sessions, admission to the keynote, one luncheon, two receptions, coffee breaks, breakfast reception at NMWA, admission to NMWA, and NMWA Faith Ringgold exhibition tour.
 

2013 CONFERENCE HOTEL RATE
Reserve by October 14
See: Hotels, Directions, Maps
 

ORGANIZING COMMITTEE
Kathe Albrecht
Juliet Bellow
Norma Broude
Kim Butler
Mary D. Garrard
Namiko Kunimoto
Helen Langa
Andrea Pearson
Sponsored by the Art History Program, Department of Art, College of Arts and Sciences at American University
---