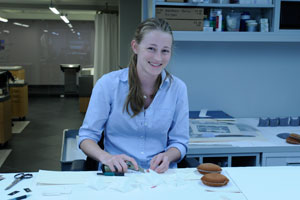 Blair Bailey was torn between her two academic loves: hard science and fine arts. Then she stumbled upon something that changed everything.
It was her freshman year. On break from AU Symphony Orchestra practice, she happened to notice a flyer posted on the art history bulletin board for a heritage site conservation program. 
"I researched art conservation programs online when I got home," she recalls, "and thought, this is the perfect meld of what I've been looking for." 
Drawing on art, science, and social science, graduate study of art conservation requires a broad background in subjects ranging from art history and foreign language to anthropology and organic chemistry. 
Bailey tallied the requirements for the only three conservation programs in the United States—University of Delaware, New York University, and SUNY– Buffalo State—and promptly retailored her undergraduate academic schedule to meet them. Equal parts art historian, archaeologist, and forensic scientist, a conservator approaches restoration of artwork with chemical and anthropological ramifications in mind—which, depending on the type of work, can be quite complicated. 
"Take art painted on top of family burial sites," Bailey says. "People think about conservators combating the effects of pollution and soot, but in a case like this, there are actually dead bodies in the artwork." 
As these bodies decompose, they leak salts, and the salts push the paint from the walls, presenting an interesting dilemma for the conservator. "You have to decide, do you take the bodies out of the burial vaults and keep the paintings there? Or do you remove the paintings and put them in a museum?" 
Bailey has had nothing but support from AU along the way. "My professors are all aware of what I'm doing, so anytime they hear about something related to my interests, they share it with me. I have this extended network of professors who help me in different ways." 
Successful candidates for art conservation programs must log 300 hours of field experience prior to enrollment—a requirement that has led Bailey to some world-class volunteer experiences. 
In summer 2009, she took a six-week painting conservation course in Florence, Italy, with leading Caravaggio conservator Roberta Lapucci. And this past June, she began a year-long internship at the Lunder Conservation Center in the Smithsonian's Donald W. Reynolds Center for American Art and Portraiture. 
"It has been fantastic to see famous U.S. portraits and cartoons up close while learning about their care and history," Bailey says. "I'm looking forward to seeing what else will unfold for me there in the coming year."